Things To Do in Temecula With Kids
by Molly Horan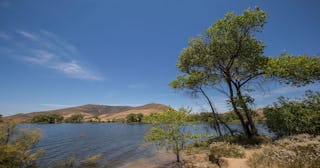 Daniel Knighton /Getty Images
Temecula is a California city that attracts families with its old-school charm. Families and kids can enjoy the culture and natural wonder of the city. Here are our favorite things to do in Temecula with kids.
Kids Attractions in Temecula
Superplum Farm offers all the fun of a zoo and a chocolate shop. The zoo features animals like zebras and a dwarf horse. The adjacent chocolate shop offers plenty of farm-fresh goodies like homemade soap and jam. It also sells handmade chocolate. Open daily, 9 a.m. – 5 p.m. Admissions: adults 13 and up pay $10; kids 3-12 pay $5; kids under 2 are free. Read reviews for Sugarplum Farm.
This trampoline park is perfect for active families. Their attractions include a dodgeball area and foam pit. They also host a kiddie area perfect for kids under 46 inches. When you need to relax after a day of jumping, they also have massage chairs. Open Monday — Thursday, 10 a.m.- 10 p.m.; Friday, 10 a.m.- 12 p.m.; Saturday, 8 a.m.- 12 p.m.; Sunday, 10 a.m.- 8 p.m. Admissions: one hour for $9.99 or $5.99 for kids under 46 inches. Read reviews for Get Air Temecula.
The museum hosts a variety of photos and paintings. Their children's touch history exhibit allows kids to get hands-on experience with a few pieces of local history. The museum frequently holds events. Special activities include artist meet and greets and an arts and crafts bazaar. Open Tuesday – Sunday, 10 a.m. – 4 p.m. Admissions: free, suggested donation $5-$10. Read reviews for Temecula Valley Museum.
This creatively named children's museum lets kids explore science at their own pace. Kids can play with a mission-control style board and take space-themed photos. There are also opportunities to play on a giant periodic table. Their gift shop is fully stocked with science-themed toys so kids can create experiments at home. Open Tuesday – Saturday, 10 a.m. – 7:30 p.m.; Sunday, 12:30 p.m.- 5 p.m. Admissions: $5 per person. Read reviews for Pennypickle's Workshop.
This indoor roller rink features open skates and skate lessons for beginners. They also host themed family nights. When you need to refuel they have a fully stocked cafe. They also feature a skate shop where you can buy your own skates and accessories. Hours vary by season. Admission: skate rentals cost $5. Read reviews for Epic Rollertainment.
Best Restaurants in Temecula for Kids
This cafe is full of quirky decor details. An old carousel horse acts as the centerpiece. Their extensive breakfast menu features omelets, french toast, and pancakes. They also offer a children's menu for kids 10 and under. Open daily, 5:30 a.m.- 3 p.m. Read reviews for Penfold's Cafe & Bakery.
Annie's Cafe is known for its great customer service. Their kids menu is available for kids under 12 as well as seniors. Options include french toast and mini corn dogs. They also have an extensive dessert menu with options like mixed berry pie and strawberry shortcake. Open daily, 6 a.m. – 3 p.m. Read reviews for Annie's Cafe.
Urbane Cafe is dedicated to healthy and fresh options. Their signature focaccia bread is always baked fresh on-site. Their kids menu features options like PB&J and cheese pizza. Each kids entree comes with chips, fruit, or a side salad. Open Monday – Saturday 9 a.m. – 11 p.m., Sunday 11 a.m. – 8 p.m. Read reviews for Urbane Cafe.
Toast is an incredibly Instagrammable restaurant. Every entree is served with style, and even the menu looks like it belongs in an Etsy store. Options on the kids menu include mini pancakes and sliders. They even offer kids "babyccinos." Open daily, 7 a.m. – 3 p.m. Read reviews for Toast.
This pizza place allows you to build your own pie with a variety of ingredients. Unique ingredients include bourbon bacon, sriracha, and banana peppers. Desserts include freshly baked cookies and ice cream. They also offer cheesy garlic bread. Open daily, 11 a.m.- 1 a.m. Read reviews for The Pizza Press.
Doh creamery focuses on handmade ice cream. They also feature egg-crate-style waffle cones. Ice cream flavors include salty caramel and fruity pebbles. Vegans will also find a few dairy-free options. Open Sunday- Thursday, noon- 9:30 p.m.; Friday- Saturday, 12 p.m.- 11 p.m. Read reviews for Doh Creamery.
Best Hotels in Temecula For Kids
12. Hyatt Place San Diego Vista Carlsbad
Hyatt Place San Diego is a pet-friendly hotel. Their fitness center is open 24/7. All rooms feature free Wi-Fi. Each room also features a 42″ HDTV. Read reviews for Hyatt Place San Diego Vista Carlsbad.
Temecula Creek Inn is a beautifull hotel. Their room service options include fresh pastries. The inn has an outdoor pool and a nearby golf course. It is a pet-friendly hotel. Read reviews for Temecula Creek Inn.
This hotel features an outdoor saltwater pool. The pool is surrounded by beautiful greenery to make every swim special. Each room includes a mini-fridge and a microwave. Its proximity to the beach is a major selling point, but it also has a wide range of amenities. Read reviews for West Inn & Suites.
This hotel and resort offers multiple pools and a hot tub. Their adventure suite is perfect for families. It offers a kids space already outfitted with games and books. It also features bunk beds and a trundle bed. Read reviews for Lakehouse Hotel & Resort.
Best Outdoor Activities in Temecula For Kids
Pelly's Mini Golf features two 18 hole courses. Their first course is ocean-themed, while the second is titled "Surfin' Safari." You enter the course under a giant wave sculpture. The courses are available for birthday parties and other group events. Open Monday -Thursday, 9 a.m. – 9 p.m.; Friday – Saturday, 9 a.m. – 10 p.m.; Sunday, 9 a.m. – 9 p.m. Admissions: one round for adults costs $9.50, one round for kids 12 and under costs $7.50. Read reviews of Pelly's Mini Golf.
GLO mini golf features so much more beyond mini golf. Their arcade features a variety of classic games and an opportunity to earn prizes. They also host video game suites where you can play XBox games. You can also visit their virtual reality arcade. Open Monday- Thursday, 10 a.m.- 10 p.m.; Friday and Saturday, 10 a.m. – 11 p.m.; Sunday, 11 a.m.- 9 p.m. Admissions: $12 per 27 holes of golf. Read reviews of GLO Mini Golf.
Best Parks in Temecula For Kids
The centerpiece of this park is the beautiful lake. Beyond the view, it also features a children's play area and a gazebo. They also have picnic areas when you need to take a rest. Fishing is an option, but you'll need to get a permit first. Read reviews of Harveston Lake Park.
This park is known for its impressive playground. The kids area also includes a splash pad. The park features a variety of sports fields including soccer and baseball fields. It also includes a dog park. Read reviews for Margarita Community Park.
Vail Ranch Park features a children's play area. Unlike other parks in the area, it's also approved for bounce houses. In addition to its picnic areas, there are also areas to BBQ. The park is handicap accessible. Read reviews for Vail Ranch Park.
MORE: The Best Things To Do With Kids in Gatlinburg
Fun Family Vacation Ideas in Maui
Kids Activities You Need to Try in Garland
This article was originally published on