Things To Do in Cincinnati With Kids
by Samantha Rice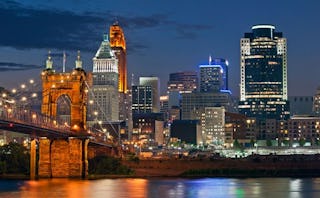 If you are traveling to, or just passing through Cincinnati, Ohio, be sure to spend time enjoying many of the family-friendly venues and attractions the city boasts. There really are a surprising number of things to do and see in this city. Cincinnati also shares its border with Newport, Kentucky, so you'll find a bunch of family-friendly activities in both cities. Here you'll find our favorite things to do in Cincinnati with kids.
Best Places to Stay in Cincinnati
Everything here is family friendly. If you're looking to add to your hotel reward points (free hotel room for another trip w out the kiddos?), we love the Westin Cincinnati for its city views (and indoor pool!) and the Kinley's bohemian style in Downtown Cincinnati.
If no hotel is kid-friendly enough for you, and you need your own house or apartment (mini kitchen? kids get their own bedroom?), Airbnb has some of our all-time favorite Cincinnati charmers — from a gorgeous Italian-style home to a super modern loft to a farmhouse in Mainstrasse.
How to Get Around Cincinnati
If you didn't drive here in your own vehicle, you'll be needing a car. Hertz has pickup locations at the airport and also throughout town.
Best Experiences in Cincinnati for Kids
We know you used to enjoy making plans on the fly, but let's be realistic and accept that you're with kids and kids need plans. Put down their tech devices (and yours) and plan a few special experiences that are unique to Cincinnati. Everything from the Cincinnati in a Nutshell Tour to the Bee and Butterfly Experience can be booked beforehand.
Kids Attractions in Cincinnati
The Newport Aquarium is nestled on the edge of Cincinnati in Newport, Kentucky. It was voted the #1 aquarium by Reader's Choice Travel Awards from 10best.com. It truly is one of the best aquariums in the country with tons of underwater creatures and critters to look at and learn about. The collection of jelly fish is seriously overwhelming.
You can touch a shark, watch sharks circle around the glass tunnel, see alligators in a low country habitat and bask in the amazement of other stunning aquatic creatures. We love the otter exhibit and there is even a kid's activity center. If you have younger kids, the kid's activity center can kill quite a bit of time!
Newport on the Levee is really something cool to see with your family. Just outside of the aquarium entrance provides many fun venues for kids like Gameworks, Wizards Magic Theater, bowling, a movie theater and other dining establishments. At Dewey's Pizza you can place your order and watch the guys making your pie right in front of your eyes.
Your kids won't want to miss a trip to the Sweet Dreams Candy Company! We've even been lucky to catch some amazing free outdoor entertainment in the evening.
The American Sign Museum is home to and preserves an extensive collection of all types of signs. The brilliant neons make for some fantastic photos, and the whole family can learn all about sign manufacturing. Kids will love the vibrant colors and flashing lights. You might say stopping by here with the kids is a bright idea (sorry, we couldn't resist).
Also in the Newport area is a historical boating and sightseeing experience on the river. You used to be able to see the catchy little duck boats as you walk up to the dock but Ride the Ducks has since closed. A more classic ride along the river with B&B Riverboats may be the pace you are seeking. It is a historical steamboat tour perfect for families who want a quiet river cruise on an old-time boat.
The Cincinnati Museum Center is the trifecta of education and fun. It hosts the Duke Energy Children's Museum, Cincinnati History Museum and Museum of History and Science. How many museums could your family want in one place? You can find three here!
We especially love the History and Science Museum. One exhibit depicts the evolution of technology. Each period of time is illustrated with artifacts from that time period. Our favorite is the downstairs glacier exhibit. The best part of visiting is if you have a membership to your local science museum you will likely gain free admission with your reciprocal benefits.
Activities for Kids in Cincinnati
You probably shouldn't leave town without checking out The Cincinnati Reds baseball and Cincinnati Bengals football. We have enjoyed more than a few Reds games and tickets to the games are often affordable. Grab a hot dog, icy soda, of course Cracker Jacks, and you are set for an afternoon of fun.
The Cincinnati Zoo and Botanical Gardens is a must-see in Cincinnati. It's located near downtown Cincinnati, within the University area. The zoo is the second oldest zoo in the United States and spans across 75 acres. The zoo offers variety of specialized programs for animals and you will be sure to see sea lions, bats, gorillas and tigers. A favorite of ours is a train ride around the zoo.
Kings Island – Amusement Park and Waterpark is perfect for a hot day with the kids. Just north of Cincinnati, in the suburb of Mason it is the largest amusement/waterpark in the Midwest. This is the same amusement park featured in the popular Brady Bunch episode.
You could easily spend two days here during park season May – October. October is our favorite time to visit the park as you can take in the stunning foliage just before plummeting down one of many headliner attractions. The park is broken into themed sections with at least one key attraction in each area. There is an adventure area, technology and boardwalk to name just a few.
Kings Island also has an awesome kid's area with mini-coasters and traditional rides scaled down for the smaller guests. The area is Planet Snoopy. All of the Peanut characters come together to make this an engaging and fun section for the kiddos. In fact, Planet Snoopy earned the award for one of the best children's areas of an amusement park.
You must ride the famous wooden roller coaster, The Beast, and grab a slice of LaRosa's pizza before you leave the park. Honestly, it is difficult to pass up LaRosa's pizza because the aroma alone is captivating. Most nights the park performs a fireworks display which is a great way to end the night. If you are staying in the fall the park's Halloween Haunt is great for a few scares and trick or treating for kids at Planet Snoopy.
When you're in Kinds Island, you're going to want to check out Soak City. Pack your bathing suits and you can take advantage of the awesome waterpark! It is full of waterslides, a lazy river and a great kid's section. Soak City is affiliated with Kings Island and you can purchase dual park passes to enjoy a bit wet, refreshing fun and some exhilarating amusement park fun. Adventure Cove is the perfect spot for smaller children with a splash pad, mini slides, Lily Pad Walk and more!
Great Wolf Lodge is a nationally-known phenomenon Located next to Kings Island, is a great place to stay. Great Wolf lodge includes a large indoor waterpark geared toward kids and adults. Great Wolf Lodge has all the typical waterpark amenities but they also have a children's spa, wolf walk and nature hike, 8 p.m. pajama and story time and varying daily activities such as face-painting, music and dancing games, balloons and bingo!
Best Restaurants in Cincinnati for Kids
Cincinnati has a number of notable restaurants. Three-way chili, Cincinnati style, with a touch of cinnamon and chocolate can be found at Skyline Chili or Gold Star Chili locations around the city.
Are you looking for pizza? Many locals love LaRosa's Pizza. You can find a slice at King's Island or at a variety of nearby restaurants.
Some of the best local barbeque is home to Montgomery Inn. Montgomery Inn was voted one of the top 10 barbeque restaurants in the country and recently voted number one restaurant in Cincinnati in the "Where the Locals Eat" contest. They have two locations but our favorite, The Boathouse, is downtown on the river.
Best Things To Pack for Cincinnati
Cincinnati has plenty of walkable places to explore (aquarium, zoo, museums, parks) so comfy kicks are essential: these retro Tretorns are light enough to pack, and perfect for all-day wear. Dressing for Ohio weather means it's all about seasonal awareness. For winter, a heavy coat is required. The fashion famous Amazon jacket by Orlay also comes in children's sizes – how cute would a matching set be? Layer it with this striped top and ankle length, high waisted skinny jeans for a no-fuss, weather-adaptable look.
Traveling with family toiletries can get cumbersome; Cetaphil makes a 2-in-1 for kids (body and hair) and for the grownups, there's Philosphy's Amazing Grace that works as a shampoo and shower gel. There's also Jack Black's all-in-one deal for the dudes. For quick touch-ups without getting into a time-consuming makeup routine, a BB cream like Tarte's Maracuja Hydrating Tinted Moisturizer, which has a 5-star rating (and 3.3k hearts on Sephora) for going on smooth helping to even skin tone while boosting moisture.
Because there's a lot of walkable areas, a lightweight stroller that packs up easily is always a must for travel with younger children. The lightweight Gb Pocket Air All Terrain travel stroller gets high praise from parents for its compactability; when folded it's the size of a small bag and weighs about 10 pounds. There are double wheels for a smooth ride and the backrest reclines, an invaluable nap-time feature. With a small stroller comes a little less on-the-go storage space, so a lightweight nylon LeSportsac baby bag is key as is a lightweight kids backpack (we love this space print). Either will have plenty of room for snacks, reusable water bottles and on-the-go Melissa & Doug Water Wow! sets for when it's time to stop for lunch.
Although we only recommend picks we really love, we may earn a commission on purchases made through links from our site.
MORE: Best Spots to Visit in Philadelphia With Family
All the Spots You Need to See When You Visit Atlanta With Kids
Must-See Attractions in Boston for Toddlers
This article was originally published on