10 Things To Do In Santa Fe With Kids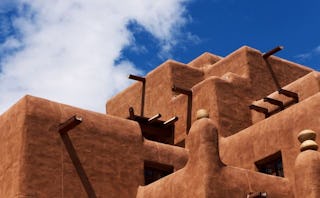 Anyone who has been to Santa Fe, New Mexico, knows that the locals believe in the possibilities of magic. Santa Fe is a place that simultaneously attracts sunburnt crystal-healers, world-renowned scientists who work in nearby Los Alamos, and iconic artists like the late Georgia O'Keefe. Therefore, it is impossible to really know Santa Fe without believing in unseen possibilities and developing a child-like imagination. That's why it's such a great place for kids! Whether you're a local or you're planning a family vacation, there's plenty to keep young minds entertained. Here are some of our favorite things to do with kids in Santa Fe.
Best Places to Stay in Santa Fe
The hotel choices are fantastic in Santa Fe. If you're looking to add to your hotel reward points (free hotel room for another trip w out the kiddos?), La Posada de Santa Fe is upscale Southwestern style, right in the heart of downtown. Also nearby, on the historic Plaza, is the Inn on the Alameda, a boutique lodge with local style.
If no hotel is kid-friendly enough for you, and you need your own house or apartment (mini kitchen? kids get their own bedroom?), Airbnb has some of our all-time favorite Santa Fe spots — from an adobe casita to the private 2 bedroom Casa Corvo to the 4 bedroom Casa Azul.
How to Get Around Santa Fe
You can certainly walk a lot in the downtown area, but unless you've got your own vehicle, you'll be needing a car for hikes and nature treks. Hertz has pickup locations at the airport and also throughout town.
Best Experiences in Santa Fe for Kids
We know you used to enjoy exploring town at your leisure, but let's be realistic and accept that you're with kids and kids need a plan. Put down their tech devices (and yours) and plan a few special experiences that are unique to Santa Fe. Everything from a Santa Fe style scavenger hunt to step by step painting classes to a holistic session in a salt cave can be booked beforehand.
1. Museum of International Folk Art Not only does this museum offer the largest collection of folk art in the world, but it also holds the stuff of many children's dreams. They offer an extensive display of art related to the Mexican holiday, Day of the Dead, with intricate models of skeletons and brightly-colored altars. The museum also has an extensive collection of multicultural toys and intricate miniatures.
2. Palace of the Governors The Santa Fe Plaza is the center of downtown and the best block is outside the Palace of the Governors museum. Here, you will meet Native American women selling silver bracelets and turquoise they have made. After you walk through the sellers, we recommend going inside this historic museum where children under 16 are always free.
3. El Rancho de las Golondrinas This living history museum, the translation literally means The Ranch of Swallows, dates back to the 1700s and is housed on 200 acres just outside of town. Children can experience life back in the 1800s through re-enactments.
4. The Santa Fe Ski Basin is just as famous for the beautiful aspen trees as it is for hiking in the summer and great skiing in the winter. After a day of ski lessons, you should hit Ten Thousand Waves on the way home to relax those sore muscles.
5. Ten Thousand Waves It is worth hiring a babysitter so the grown-ups can visit this legendary spa located in the hilltops of Santa Fe. This Japanese-themed spa specializes in private outdoor hot tubs in calm, pinion-tree settings. During the winter, you can even get a hot stone massage outside in the snow.
6. Santa Fe Opera If you visit Santa Fe during the summer, you must take your children here so they can experience world-class opera. Not only are the opera stars legendary, but the Santa Fe Opera house is outside; your kids might express a hushed giggle upon spotting a bat flying above a soprano's head. If you are on a budget, we highly recommend attending one of the Dress Rehearsal Nights where it is perfectly acceptable for your kids to wear pajamas to a performance.
7. Loretta Chapel Not only is this historic Catholic church shockingly gorgeous, but it houses a famous staircase tied to a mystery. In 1878, the carpenters building the church had difficulty constructing an elaborate spiral staircase so the nuns prayed to St. Joseph, the patron saint of carpenters, for nine days until a mysterious carpenter arrived. This stranger not only built this architectural masterpiece without any visible support but he disappeared without accepting payment.
8. Canyon Road Santa Fe is known as one of the biggest art markets in the world, and Canyon Road is where you go to see the top galleries in town. While seeing a bunch of galleries might not sound ideal to do with kids, Canyon Road itself has a rustic, beautiful feel; kids love the outside sculptures and general whimsical atmosphere.
9. Santa Fe Flea Market There is no place in the world quite like the Santa Fe Flea Market where the people-watching is even more fun than looking for deals on Native American jewelry, hippie clothes or eccentric furniture. This is place where locals congregate and you can truly experience the diverse make-up of Santa Fe.
10. Maria's New Mexican Kitchen No list about Santa Fe is complete without an amazing New Mexican restaurant, and Maria's is famous not just for their food, but for their extensive margarita menu. Maria's literally wrote the book on margaritas; they offer over 100 different margaritas. Our favorite item here is the famous Green Chile Stew, and their sopapillas (New Mexican fried bread) is worth the trip itself. The price of the average entree is $8.50 and, best of all, they are kid-friendly.
The Best Things to Pack for Santa Fe
Santa Fe is a destination rich in landscape, art, history, and culture, so you'll want to pack accordingly. Keep all your stuff–and by that, of course, I mean yours, your spouse's, and your kids' stuff–organized and ready to grab. How? With a lightweight travel backpack that doubles as your purse and has a spot for everything from a water bottle and snacks to phone and sunglasses. Speaking of, Ray-Ban Aviator Sunglasses are a must have. Santa Fe gets an average of over 300 days of sunshine a year, so no matter when you go, you'll want a classic pair to protect your peepers. If you are planning on taking a hike, literally, be sure to pack a pair of breathable, lightweight hiking shoes –Merrell is the gold standard when it comes to outdoor sneaks and we're pretty the guys will want a pair of hiking sneakers, too.
Expect tons of beautiful views, and get your littles engaged with a kid-friendly camera so they can capture their own memories! Whether you're getting active with your crew or sticking to sightseeing around museums and markets, staying hydrated is a must at the increased altitude, so stock up on insulated water bottles for the whole fam (everyone gets their own) plus reusable snack bags to bring with each day. Oh, and for yourself, be sure to bring a travel jewelry roll–not only for the items you'll be bringing, but for the baubles you're no doubt going to score while you're in town.
Although we only recommend picks we really love, we may earn a commission on purchases made through links from our site.
Got any other Santa Fe tips? Leave them in the comments!
This article was originally published on