This 8th Grader Wasn't Suspended For Being 'Patriotic'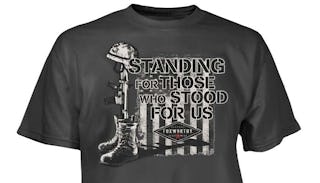 A high school dress code story is in the news today, and for once, it's not about what a girl is wearing. A middle school student in Oregon was told to change shirts after he came to school wearing an image of a "Battlefield Cross," that includes a rifle, boots, and a helmet.
Alan Homes refused to take the shirt off, so he got an in-school suspension. Holmes' older brother served in Iraq, and he wears shirts like the one above to show his support for the troops. The school's dress code bans kids from wearing clothes promoting alcohol, tobacco, and violence. Unfortunately, an image of a gun breaks this rule, no matter how "patriotic" it is.
Dress codes are a hot topic because they are usually so arbitrary. Different items of clothing can look so different from one student to the next — it's why there are always so many arguments surrounding policing girls' bodies with strict dress codes that are often random. But there is nothing arbitrary and subjective about a "no alcohol, drugs, or violence" clause. You simply can't pick and choose which images are appropriate and which are not.
"I was just upset. I was heartbroken. My brother, he means everything for me. Just being able to help and give back to the people who fought and died for us it just makes me feel good," Alan told KATU. He was so relieved when his brother came home safely, it means a lot for him to be able to show his support for his efforts. That's a valid sentiment, but it doesn't mean the school's hands aren't tied when it comes to enforcing rules that are so specific. And there are plenty of patriotic shirts that don't include a Battlefield Cross. He can show his support for his brother without violating the school's dress code rules.
You also can't blame an administrator for being particularly sensitive to the image of a gun in the wake of the tragic shooting on an Oregon campus this month that left 9 people dead.
There are plenty of ways to show support for the troops without using the image of a gun. Holmes should opt for one of those next time, or be prepared to get sent home again.
This article was originally published on