This Amazing Twitter Story Proves Representation Saves Lives
by Maria Guido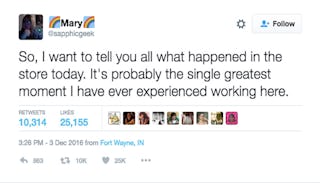 Yes, our kids need to see themselves in storylines — it may save a life
Fictional role models matter, whether you believe they do or not. Representation matters. Our children seeing themselves and their struggles in storylines and characters matters. And there is no better proof of this than a story that's gone viral on Twitter that shows the importance of all of our children being included in pop culture.
What may seem like just a storyline to you, could be a lifeline for someone who doesn't always see themselves or their situation represented. Mary Swangin, who works at a comic book store in Indiana known as DCBS, gave a detailed account about an interaction she had with a teen who came into her store. This is a shining example of why representation matters so much.
Begins the Twitter story that's now been shared over 10,000 times.
This season, a character on the CW series Supergirl came out. Supergirl's older adoptive sister Alex (played by Chyler Leigh) has been keeping a secret her entire life — one that was revealed last month. She's gay.
"What I'm interested in, because I love Alex, is that I want Alex to be happy," executive producer Andrew Kreisberg tells The Hollywood Reporter. "There was always this sadness about her last season that I think we're really getting underneath now. No one should ever feel like they're trapped. No one should ever feel like they've got a secret inside of them. The idea that, in going through this, even if it is painful and rough going, that Alex is going to come out the other side a happier and more complete person, as someone who loves Alex Danvers so dearly like a sister, that she is going to go on this incredible journey makes me so happy."
The actress herself even weighed in: