'This Is Us' Producer Calls Kevin's Finale Wedding 'Satisfying & Twisty'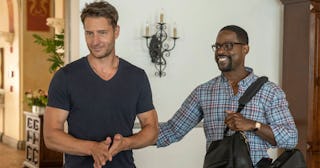 Ron Batzdorff/NBC
This Is Us executive producer Isaac Aptaker just dished on the show's season 5 finale, including some intel on Kevin's highly-anticipated wedding
After several months of filming delays due to the COVID-19 pandemic, This Is Us season five is wrapping up tonight with what is sure to be a seriously emotional finale. Kevin is set to marry Madison, but in a new interview with Entertainment Weekly, an executive producer on the series hints at "quite a few logistical snafus" on the couple's big day.
Isaac Aptaker teased what fans can expect, telling the magazine, "Kevin's wedding planner may be a little bit rusty from the pandemic because there are quite a few logistical snafus early on in the day."
While Aptaker didn't elaborate on what could possibly go wrong, he did hint at some big surprises and an ending that will leave fans with "a new set of question marks," sharing, "It's really satisfying and twisty. We give some big answers and then we ask some brand-new questions, and I think this really strikes the perfect balance between the two."
Don't worry: The finale will include some of the show's signature sweet flashback moments, including "another peek into Jack and Rebecca's wedding day," which definitely reads as code to keep the tissues nearby.
Aptaker did give one sage piece of advice to viewers watching live who won't want to miss what seems like a jaw-dropping conclusion in the last minutes of the hour-long finale. "People are definitely going to want to have [eaten] their snacks and have taken all of their bathroom breaks and be rooted in front of the TV for our last five minutes."
It seems like we'll just have to stay tuned to find out what, exactly, it all means. But we won't have to wait too long, thankfully. The season five finale airs tonight on NBC at 10 p.m. ET/PT, so we'll officially remain glued to the TV for every last second.