There's 2 New Episodes Of 'This Is Us' Next Week, So Grab Your Tissues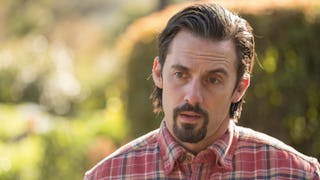 Image via Ron Batzdorff/NBC | 2017 NBCUniversal Media, LLC
This Is Us fans will have double the episodes and double the emotions next week
Brace yourselves, This Is Us fans. Next week is going to pack a double emotional gut punch with two brand new episodes of everyone's favorite family show.
The first new episode will air directly after the Superbowl on Sunday, February 4. Then we all get one day to recover before the second new episode, which will air on its regularly scheduled Tuesday night.
Unless you've been living under a rock, you're probably aware that previews for Sunday's show look intense. Fans were finally given a glimpse into how our beloved Jack Pearson meets his end — the preview makes it look like there's going to be a terrifying house fire, caused by a faulty Crock Pot.
Because this show loves to hit us where it hurts, now they've gone and made us harbor ill feelings toward every mom's favorite household appliance.
As a native Pittsburgher, I feel personally victimized by the fact that not only are the Steelers not in the Superbowl this year, but the Pearsons — who are A+, number one Steelers fans — are going to have their most dramatic episode yet, directly following the big game. (Somehow, this is all Tom Brady's fault — who's with me?)
Dan Fogleman, creator of This Is Us (basically the ultimate emotional puppeteer if there ever was such a thing) recently shared his thoughts about this particular episode, saying it's "a very sad, beautiful, ultimately thrilling and heartbreaking episode of television — but it's also about the bigger picture of what this show is about. It's probably inarguably our saddest episode."
Jesus Christ Dan, how much more can we take? And by "we," I of course mean Milo Ventimiglia stans. Twitter seems to agree, with everyone gearing up for the big post-Superbowl episode, which will be an extended episode.
Truer words have never been spoken.
It doesn't seem likely that over two years of buildup surrounding Jack's death would be a dream, BUT ONE CAN HOPE.
Extremely same.
Here's hoping the episode that airs on Tuesday, February 6, is a bit of an emotional palate cleanser after Sunday. But maybe we should all buy a Costco-sized box of tissues just in case.