This Mom's Pacifier Teething Hack Is Total Genius
by Cassandra Stone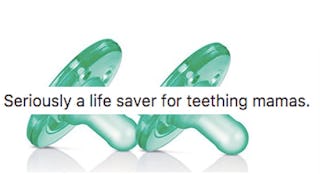 Image via Amazon/Facebook
All you need is one of those super popular Phillips Avent pacifiers
Nothing will make parents feel quite as helpless as a teething baby, miserable from the pain. There are all manners of teething toys, teething biscuits, teething remedies out there — some of them work long enough for a brief respite for baby and parents. And of course, some of them don't work for shit.
Luckily, one mom shared a genius hack for teething that is so simple, it's pure genius. Emelia Jackson, a mom of a teething baby herself, shared her hack on Facebook where it quickly went viral.
"If your babies are teething, mamas put water in your soothie, and then put it in the freezer for a couple hours," Jackson writes.
"Teething is a bitch, let's just be honest," Jackson tells Scary Mommy. "So if you can find these cheap, easy hacks then why not? Us mamas got to stick together, so I'm glad it's helped a few people."
The pacifiers Jackson uses are the popular Phillips Avent "Soothie" brand — otherwise known as the pacifiers the hospital gives you. They're undoubtedly the most recognizable binkies on the planet, and you can get some of your own (or a few extra, if you're in need) on Amazon.
"Seriously a life saver for teething mamas," she says. "He was so content with his cold binky."
And why wouldn't any baby be content with a soothing, built-in popsicle that alleviates those aching gums? Especially for babies who already love their binkies. I'm actually kicking myself for not thinking of this when my toddler was a cranky, drooly mess during those teething months. I'll have to keep it in mind for any future babies.
Jackson also edited her initial post to add that for anyone concern trolling about her infant ingesting water, there's no need to worry. "There is no hole in this binky," she says. "And absolutely no way for the baby to get the water."
If you're familiar with those little green suckers, you already know that. And now you know they're good for much more than just sticking your finger in it. Now go on and hack away! Your baby's aching gums will thank you for it.
This article was originally published on