Bored During Quarantine? Crochet Your Own Joe Exotic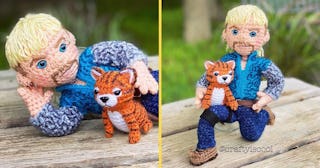 craftyiscool/Instagram
Put your downtime to good use by crocheting Joe Exotic — complete with tiny tiger cub
Listen, we're not minimizing the fact that things in the world are feeling very bleak right now. They suck. They're sucky. And worrying about the coronavirus is a constant time suck. So, yeah, just a lot of general suckiness going around. But that's precisely why we need delightful distractions to get us through the day. And on this day, that includes discovering that a crochet pattern exists to help you recreate the "gun-toting, tiger tackling, mullet sporting, gay polygamist" that is Joe Exotic of Netflix's sleeper hit Tiger King.
No, this is not a drill. Or an April Fool's joke. It's the real deal, right down to Joe Exotic's dangling eyebrow ring. The crochet pattern is the genius creation of Crafty Is Cool proprietor Allison Hoffman, who clearly shares in the rest of the binge-watching world's abject fascination with the bizarre docu-series.
Worried you might get tripped up by the intricate swirls on Joe's extravagant shirt? Or that his multi-toned mullet might throw you for a loop (and not the right one)? As Hoffman tells it, the comprehensive kit makes it possible for crocheters of any skill level to bring their very own big-cat-collector-slash-country-singer to life.
"The Oklahoman measures 12.5″ tall and the tiger cub sits at 3.25″ tall. This pattern is 21 pages long and includes 57 photos. It has lots of details so beginners might like the challenge, intermediates might breeze through, and advanced crocheters will laugh at its simplicity," her Etsy page reads.
She also makes it easy to track down all of the materials needed to make your mini-Joe Exotic, too. On the last page of the whopping 21-page pattern is a full list of yarns and links revealing where you can purchase them.
Did we mention you get all of this for only $7? Granted, you'll have to get creative (or even more crafty) if you want to recreate the entire colorful cast of Tiger King characters. And it goes without saying that the murder, mayhem, and madness are not included in the Exotic Tiger Man Crochet Amigurumi Pattern.
Hoffman tells Scary Mommy she's selling the original Joe she made for charity on eBay with all proceeds going to local Austin organization #alltogetheratx providing relief for families during the coronavirus epidemic.
We can't wait to break out the yarn. Here's hoping Hoffman's next project is the pattern for a tiny Carole Baskin in all of her leopard-print-wearing, flower-crown-adorned glory. In the absence of a voice box that says "Hey all you cool cats and kittens," we're keeping our fingers crossed that her doll's accessory is a large vat of sardine oil.