Meet The TikTok Therapists Providing Free Mental Health Content For Everyone
by Katie Cloyd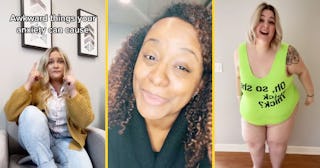 that.anxious.therapist/drpatriceberry/thatfatdoctor/TikTok
Did you know there is a thriving community of TikTok therapists? There are countless mental health professionals creating content on TikTok, and their expertise is available to anyone, free of charge. Their content is a great start for someone who isn't able to access therapy, or who would like to ingest helpful content between sessions.
Individualized therapy can be such an important part of your mental healthcare. Working with a trained mental health professional can provide clarity and healing, allowing you to understand yourself better and live with more peace. Obviously, social media is not a substitute for individualized therapy, but unfortunately, not everyone can access quality mental healthcare. For some people, there are financial barriers that make affording therapy an impossibility. Some of us grapple with anxiety about initiating therapy. Others of us just can't fit one more thing into our schedule as we try to juggle parenting, work and home.
Enter the TikTok therapists.
Hundreds of qualified professionals choose to spend their precious time creating TikTok content to support their audience's mental wellness. Once you find the TikTok therapists, you have access to a wealth of information that can help you get clarity and feel less alone. To get you started, a few amazing humans who share their knowledge and experience on TikTok agreed to talk to Scary Mommy.
Here's what the TikTok therapists are all about in their own words.
"I specialize in reproductive/perinatal mental health, interpersonal trauma, stress and trauma associated with being marginalized by society, and chronic pain and illness management.
I recently graduated with my Ph.D. in clinical psychology; now, I'm starting my postdoctoral fellowship at a hospital and am working towards licensure. I decided to create my TT page because I want to destigmatize mental health and normalize therapy, especially in marginalized communities. I want to use my page and website (linked in my bio) to share resources and information to help people access resources, treatment, and accessible self-management tools. I love that we are creating a supportive community and helping people to connect.
A mental health practice I use that I think would be useful to almost anyone is I remind myself that I cannot hate myself into happiness."
"I specialize in diagnosis and treatment of neurodiverse individuals (autism, adhd, learning disabilities, anxiety, depression, parenting) with an emphasis on the overlapping of queerness and these diagnoses.
There are so many ways to be human. Much of my career and personal life has been dedicated to the idea that we can expand our knowledge of how to be mentally well and functional in our world. A lot of this work is also oriented towards social justice. People need access to quality mental health care so that they can access affirming diagnostic and support spaces. We should also be breaking down the incredible paywall that keeps general mental wellness information from the general public.
Constantly fight to be in touch with your most core authentic self. What would that self want? How does that self want to live? And then move in the direction of that voice."
"I specialize in Music Therapy, specifically within the mental health population.
I feel like the only way to destigmatize mental illness is to stop treating it like a dirty little secret. TikTok allows me to advocate for my profession while also destigmatizing mental illness in bite-sized videos that are more easily digested by the general public. Since, TikTok was initially focused around music, it seemed like a no-brainer to use it to talk about music therapy. Not only does it allow me to advocate, but it allows me to show a glimpse into the life of someone who is living with bipolar disorder, PTSD, and OCD and making it their bitch."
"I'm a Licensed Professional Clinical Counselor based in Minneapolis, Minnesota. I work primarily with young adults and teens in the LGBTQ+ community. I often describe myself as an anxious emo kid turned anxious emo therapist. I came into the therapy field because I wanted to be the therapist for teens that I never had as a teenager. As a therapist I pride myself in being authentic, open, and allowing of all the feels and swears in the therapy space!
It starts with self-compassion and self-love. We have to be kind to ourselves in a world that can be so unkind. I always recommend checking out work from Sonya Renee Taylor on radical self-love."
https://www.tiktok.com/@that.anxious.therapist/video/6977444977840377094?_d=secCgYIASAHKAESMgowm%2FZmod0vkE%2BlXXFAkosNa0ncE4zTyj3yHSseKC6J2LvV%2BaQul7vziDaaW6oqNc39GgA%3D&language=en&preview_pb=0&sec_user_id=MS4wLjABAAAAwZj-pubS73omLzSeH69qbqHS3PtKsdgbBMzI-VQrCR2mj1ACQMMIx5zUa7jO2468&share_app_id=1233&share_item_id=6977444977840377094&share_link_id=469F613D-9BCB-4EEF-B0FE-84FBC4E6B30D&source=h5_m&timestamp=1625938325&tt_from=copy&u_code=d977j6a3g5l382&user_id=6756698705309631493&utm_campaign=client_share&utm_medium=ios&utm_source=copy&_r=1
Dr. Patrice Berry, Licensed Clinical Psychologist (@DrPatriceBerry)
"I specialize in anxiety, depression, trauma, adoption, and parenting.
I have over 15 years of clinical experience and launched my private practice back in 2020. I am a mom, wife, and have a podcast with my mom called Legacy Moments where we have authentic conversations about life and business. A client was the one who recommended that I create content on Tiktok. I was already creating content on Instagram and a few clients wanted the shorter 15-60 second videos. I never thought my account would continue to grow the way it has, and I love being able to create my own little community. There are so many people that I am not able to help due to my clinical practice being full. It is also my goal to normalize and break the stigma with mental health and seeking support, especially within Black communities."
"I am a fat doctor of clinical psychology who focuses on self-love and total mind-body connection in regards to nutrition, movement, and mental health. I'm also a part of the LGBTQ+ community and do advocacy within that community as well! I believe that all humans are good humans, all bodies are good bodies, and perspective changes are possible! Most of my work focuses on un-learning diet culture bullshit, teaching intuitive eating, and helping people love themselves again. I chose TikTok because I saw a video of a girl being bullied due to her size, and it broke my heart. I thought that maybe this could be the perfect opportunity to teach the world what I know and what I've researched. Plus, I'm a pretty sick dancer soooo… best of both worlds?!"
"I specialize in Boundary Setting, Anxiety, & Healthy Relationships. I spend a lot of time working in teen substance use and work closely with the Juvenile Justice population. A lot of my research is dedicated to the school to prison pipeline and helping partnering agencies figure out strategies to help youth that were pushed into the pipeline. When I'm not focusing on my work, I enjoy the outdoors. I've been married to my husband for 5 years and we enjoy kayaking, hiking, and whitewater rafting. I also love tacos and donuts! One practice I think everyone could adopt to look after their own mental wellness is to say no more often. This is such a hard practice! I also think saying no can be perceived in a negative light. However, when someone says no to something they really don't want to partake in, they are caring for themselves in a way that more than likely, has never been cared for."
"I specialize in Body Positivity, Men's Mental Health, Toxic Masculinity, LGBTQIA+, ADHD, Anxiety, & Forensic Psychology. I have my Masters in Forensic Mental Health Counseling from John Jay College of Criminal Justice. Having grown up around adults with addictions and untreated mental health needs — I was called to the helping professions at a young age. My desire is to use TikTok to combat mental health stigma, provide education regarding mental health, and eliminate the invisible distance between client and provider by illuminating the fact that therapists are humans first.
I encourage everyone to employ daily creative coping rituals in order to have those tools readily available when we are experiencing challenging emotions. Blow bubbles to practice deep breathing, use essential oils, singing bowls, worry stones, listen to music, dance, create art, etc. to promote individualized wellness. Find what you like, take what works, and leave the rest- get creative!"
https://www.tiktok.com/@counselorwill/video/6972564670368484614
"I am a therapist, school counselor, and football coach. I am very passionate about mental health and relationships. Breaking the mental health stigma globally is my goal. I emphasize on the POC community, Male, LGBTQ+, and Children/Parents with ADHD.
As an individual with an ADHD and Bipolar 2 Diagnosis, my goal on TikTok is to spread awareness and break the negative stigma around Bipolar and any other mental health condition. People are more interested in creativity when it comes to learning, and that is why I choose TikTok. Creating short, active videos to spark attention is a brilliant way to reach others– especially if diagnosed with ADHD. TikTok allows me to reach other mental health advocates globally. Being able to educate those who cannot afford mental health services and those who don't know where to start when seeking services has been successful through Tik Tok."
"In my practice, I work with teens and adults with substance use disorders, anxiety disorders, eating disorders, depression, and I do a ton of personal growth work. I keep it pretty real. I have anxiety, take medication and have had some pretty difficult times in my life. I have flaws, insecurities, have made bad decisions, and I can be messy. I even go to my own therapist! I am transparent about all of this.
My intention in joining TikTok was to create a platform that can normalize therapy to people, as well as normalize therapists! We aren't scary! We are humans, too. I want to work on breaking ALL stigmas surrounding mental health issues and treatment. Even if someone has no access to services, at least they know they are not alone!
I encourage self-compassion! The more you fight the worse it becomes … embrace all emotions and treat yourself with grace and kindness. Healing and progress are not linear!"
"In my daily practice, I specialize in the LGBTQIA+ community, grief, relationships, adults and seniors. I am Kink/BDSM positive, as well as supportive of consensual non-monogamous relationships. I focus on utilizing CBT and DBT in sessions, as well as instituting parts of Psychodrama.
On TikTok, I do therapy humor. I love making fun of myself and have a few videos about dating as a therapist! I work on normalizing mental health, supporting and being part of the LGBTQIA+ community, and focusing on things in our lives as being morally neutral and not determining our worth including our home, weight, appearance, mental health, education, etc.
My goal is to be real with my clients and followers on TikTok, including bringing in a little slice of humor and sass every so often! Oh, I'm also very queer and constantly working on bettering myself as a social justice change agent."
All of these TikTok therapists have a very important message for anyone seeking out mental health content on social media, and Toli says it best:
"Mental health content on TikTok, or any other social media outlet, is meant to provide education and validation that you are not alone. It is meant to bring awareness to the struggles we face and encourage seeking help and support. It is not a substitute for therapy. Take what you learn on TikTok and talk to your provider about it– and how it may or may not be beneficial for you."
This article was originally published on