Time to Say a Sad Goodbye to 'Phineas and Ferb'
by Laurie Ulster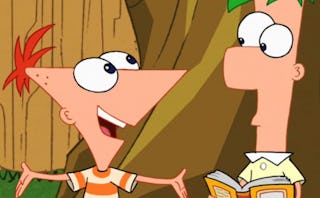 It's been a great, long, adventurous, hilarious, musical summer. And it's coming to an end, after 126 glorious episodes. Yep: Phineas and Ferb is airing its last new show this June, to my dismay.
For all of us who have to sit through children's TV with our kids, this is the show that makes it fun. It passes the rerun test, which is key; watching the same episode over and over again isn't just tolerable, it's delightful. The show has unique and memorable characters, funny storylines, great running jokes, awesome songs and some of the best guest stars on television. And it never jumped the shark.
Creators Dan Povenmire and Jeff "Swampy" Marsh met when they were layout artists on The Simpsons, and it shows, not just in the bright colors and fully developed characters, but in the layered depth of each frame and memorable storylines. Phineas and Ferb ran a restaurant, became pop stars, time traveled, recreated a chariot race and built a roller coaster, giant forts, a Bio Dome, a super computer, a magic carpet, an animal translator, growth elixir, and a portal to Mars. And that's just for starters.
I'm going to miss those guys a lot.
The show had some killer guest stars: J.K. Simmons, Joel Grey, Damian Lewis, Judd Nelson, Tom Wopat, Erik Estrada, Tina Fey, Jane Lynch, Vicki Lawrence, Joan Cusack, Davy Jones, Jamie Oliver, Michael Douglas, Michael J. Fox, Anna Paquin, Carol Kane, George Takei, Christian Slater, Simon Pegg, Clay Aiken, Chaka Khan, Kelly Clarkson, Ray Liotta, Lost's Jorge Garcia and Harold Perrineau, Guy Fieri, Tim Curry, Rob Morrow, Samantha Bee, Amanda Plummer, Jaime Pressly, Danny Trejo, Stan Lee, Goldie Hawn, Gordon Ramsay, Patrick Dempsey, Jon Stewart, Jane Kaczmarek, Noah Wyle, Ben Stiller, Bella Thorne… to name just a few.
Malcolm McDowell, Allison Janney, Cloris Leachman, Jane Leeves, Ming Na-Wen and Seth Green were all recurring guests.
Povenmire and Marsh are moving on to a new show called Murphy's Law, about the fictional great-great-great-grand-grandson of the Murphy's Law namesake. If it's half as good as Phineas and Ferb, you're in for a treat.
The last episode of Phineas and Ferb airs on June 12, and on that day I shall mourn. It will be called "Last Day of Summer," which makes perfect sense; every episode (except the Christmas one) takes place on a long summer day. Starting on June 9, the Disney Channel will air a marathon of all 126 episodes.
Here are a few of the classic songs from the show to keep you reminiscing:
This one seems fitting to end on. It's from the movie Phineas and Ferb the Movie: Across the 2nd Dimension, and explains everything about why summer is the greatest thing in the world, if you happen to be Phineas and Ferb.
From all of us parents and kids who have spent many a happy half-hour enjoying the antics of Phineas, Ferb, Candace, Baljeet, Isabella, Perry the Platypus, Dr. Doofenschmirtz, Buford, Linda and Laurence, Major Monogram and Karl, Stacy, Jeremy and even Little Suzy, THANK YOU. And farewell.
This article was originally published on