Time Magazine's 'Top 100' List Is Finally Full Of Women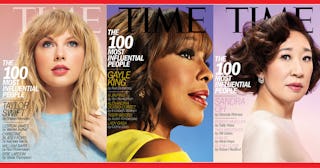 Image via Time Magazine
Time Magazine recognized more women than ever in the annual Top 100 list, including Ariana Grande, Chrissy Teigen, and Alexandria Ocasio-Cortez
Sure, we're all about closing the gender wage gap, getting more women into positions of political power, and ending internalized sexism across the planet for the next generation and every generation after that – but this is also a good step in the right direction. Time Magazine released its annal list of Top 100 Influential People today, and for the first time ever, a full 48 of the picks were women.
Last year, the list had 45 women – and hey, maybe next year we could break even.
The notable women on the list included heavy hitters like Michelle Obama, Taylor Swift, Ariana Grande, Chrissy Teigen, Alexandria Ocasio-Cortez, Nancy Pelosi, Gale King, and Jane Goodall.
"When we first started doing this in 2004 – I just went back and counted – there were 24," Time Magazine's editor-in-chief and CEO Edward Felsenthal told CBS This Morning. "Obviously still a ways to go in our society, and the list is in some ways a reflection of our society, but it's been an amazing year for the women on the list."
The picks were sorted into five different categories: pioneers, artists, leaders, icons, and titans. And each pick was profiled by another notable influencers.
Under the "leader" category, presidential hopeful Elizabeth Warren wrote about freshman Senator Alexandria Ocasio-Cortez:
"A year ago, she was taking orders across a bar," Warren wrote. "Today, millions are taking cues from her. She reminds all of us that even while greed and corruption slow our progress, even while armies of lobbyists swarm Washington, in our democracy, true power still rests with the people. And she's just getting started.
Chrissy Teigen was profiled by French chef Eric Ripert, who wrote, "But what I love most about Chrissy is that she's very much herself. She may be glamorous and an icon in elegance, but she's extremely approachable and warm. And above all, she's a very proud mother and a tremendously supportive wife. I admire her so much."
Teigen responded on Twitter with that signature approachable charm: "AHHHHHHH!! Eric f–king Ripert are you kidding me!?!"
Singer-songwriter Troey Sivan profiled superstar musician Ariana Grande, writing, "Through just about the craziest storms and whirlwinds I can imagine, Ariana Grande remains the most real person I've met. I've always thought the world is privy to actual, genuine emotion—be it heartbreak, empathy, generosity, resilience, strength—and I believe that's exactly why the world keeps falling deeper in love with Ariana."
Another female writer and singer who has moved mountains was also on the list: Taylor Swift. Fellow singer-songwriter Shawn Mendes wrote: Taylor makes the job of creating music for millions of people look easy. It all comes from her—her belief in magic and love, and her ability to be as honest and raw as possible.
And while Oprah Winfrey didn't make the list this year, her best friend Gayle King, did. Award-winning director Ava DeVernay wrote about how King has finally stepped into her own and is seen for her own accomplishments after years of working in journalism.
"The fact that this year she is being lauded as one of the all-time great broadcast interviewers is simply the perfect signifier, a few decades overdue," DeVerney wrote. "Luckily for us, we've finally decided to regard her in relationship to herself."
There were also a few sliiiightly lesser-known women on the list who are absolutely worth the coverage. Chef and television personality Samin Nosrat is one of our very favorite people, Tara Westover, who wrote the amazing memoir Educated last year, Dr. Lenana Wen, the president of Planned Parenthood, and Christine Blasey Ford, who stood up to Brett Kavanaugh and the world about her sexual assault with more bravery than many of us can even imagine.
With coverage of amazing women like this, who knows? Maybe next year on Time's list we'll hold the same percentage of spots as we do in the census!
This article was originally published on