Timothee Chalamet Shared A First Look Of Himself As Wonka
by Christina Marfice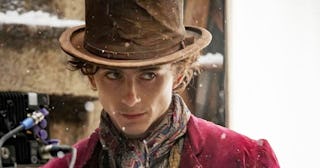 Instagram
Timothee Chalamet gave fans a sneak peek of himself as Willy Wonka, proving that he was perfectly cast for the role
Timothee Chalamet is one of the most up-and-coming stars on the planet, and we have to admit, we'd pretty much see anything he starred in. But one that we're especially excited for is Wonka, where Chalamet will play the iconic Willy Wonka in a prequel-meets-villain-origin-story that we're already counting down the days for. To help us with the long, long wait until the movie's scheduled premiere in 2023, Chalamet just posted a behind-the-scenes photo to social media, showing himself in costume as Wonka, and, um, we weren't ready.
Chalamet captioned the photo simply, "The suspense is terrible, I hope it will last …" In the photo, he's wearing Willy Wonka's signature red velvet suit and brown top hat. And with the smoldering look he's serving, we kind of have to wonder: Is it wrong to think Willy Wonka is kinda hot?
We're not the only ones asking that question. The photo lit up Twitter pretty much the moment it was posted.
Chalamet will be the third actor to take on the iconic role — it was first played by Gene Wilder in 1971, then by Johnny Depp in a 2005 remake. The movie takes on Roald Dahl's novel have always had some musical elements, and Deadline reports that that will be the case with this version as well — which means Chalamet will be showing off his singing and dancing chops through several musical numbers that are set to be in the new movie.
Wonka will be different from past versions of the story because it will focus on the time before Willy Wonka owned his famous chocolate factory. This will be the first Willy Wonka movie that doesn't feature Charlie Bucket at all; instead, it will show us a younger version of the famous chocolatier, and everything in his life that lead up to his Golden Ticket contest that brought children (and utter chaos) to his chocolate factory in the story we're all familiar with. Chalamet seems like the perfect actor for the role, since he could absolutely pass as a younger version of both Gene Wilder and Johnny Depp. In fact, the director wanted him so badly he delayed filming to make sure Chalamet would be able to finish other film commitments and complete the singing and dancing training he's receiving for this role.
Wonka is set to hit theaters in March 2023.