Tinder Rolls Out Video Dating Feature That Literally No One Asked For
by Julie Scagell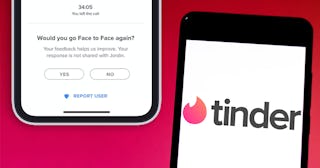 Tinder and SOPA Images/Getty
Tinder wants to be here for you in the age of social distancing
If you've been thinking to yourself, "Hey, what's another way to make online dating even more awkward and dreadful," Tinder has the answer. The company is rolling out Face to Face — its 1:1 video in-app feature — to users everywhere beginning Oct. 27.
To its credit, the networking and online dating app is trying to offer advances in the age of social distancing, so users can go on virtual dates without exchanging any personal details. But as one of my incredibly funny single friends pointed out, "Most people prefer to swipe in the dark looking like a train hit them. No one wants to dress up for that." Another said, "So, now we have to see dick pics live? No thanks."
Back in July, Tinder began beta-testing in-app video calls after realizing the pandemic wasn't going anywhere, anytime soon. They aren't the first dating app to provide video calls, Hinge and several others introduced video chat features early in the pandemic as a way to keep people connected and potentially weed out prospects that perhaps wouldn't have floated their boat in person.
It would definitely give you an immediate answer to the, "I wonder how old their profile picture is?" question and, "Is that their mom's basement in the background?" But I feel like swiping in any direction should be from the comfort of your own bed, sans makeup, and done at a leisure not supported by video anything. We're all Zooming and Microsoft Teaming enough these days, can we not just get a brief respite from having to be "on" all the time?
A rep for the company said they are "really proud of the thoughtfulness of the feature" and that it "echoes the double opt-in that Tinder pioneered, and brings it to a new level."
The Tinder Trust and Safety team did ensure that numerous safety protections have been put in place to protect users. First, you'll only be able to video call if both parties agree, so someone isn't just going to randomly pop up on your screen while you're sitting on the toilet. Once you agree, simply tap the video icon, it won't be unlocked until both of you have done so.
Once the call has ended, users will be asked to rate how the experience went. Your response won't go to the other party so feel free to let loose with your feedback.
"We're excited to share that our Face to Face feature is rolling out to our global community after receiving positive feedback from our members who have had early access to it," said Rory Kozoll, head of trust and safety product at Tinder in a statement. "This adds to our growing list of features built focused on member safety throughout their dating journey, like Photo Verification, Safety Center, and our offensive message detection technology."
It's a feature that's there when you want it. If not, swipe on.