23 Tiny Victories That'll Make You Feel Like You're Nailing Motherhood
by Team Scary Mommy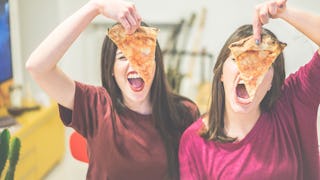 DisobeyArt / Getty Images
If you add up our tiny victories, we're nailing this motherhood thing and being adult people. But we never actually feel like we're winning. On any given day, our inspo has flatlined and our lives can feel like a disaster.
But it doesn't exactly hurt to be kind to ourselves and find all of our hidden victories through a shot of perspective. Who cares if the bar is real low. Like, go lower, nope, lower, and yep, below that.
See! We're nailing it!
Here's all the tiny victories you've probably accomplished this week without even trying. And that's the best kind of victory — barely trying and succeeding anyway.
1. Went food shopping, bought pizza for dinner.
Pizza is your take-home prize for the sheer exhaustion of this mind-numbing domestic duty.
2. Shaved legs after winter protest.
So silky smooth.
3. Your kids took two bites out of that thing you made.
Whatever, at least it was two and not none.
4. Ketchup is a vegetable.
It is, and you're holding firm.
5. Successfully used the entire bag of lettuce this week.
You were optimistic in this healthy-eating purchase and rose to the occasion. Noice. This is trophy-worthy right here.
6. Plastic wrap is no longer your arch nemesis sent to destroy all traces of joy.
Reynolds KITCHENS® has introduced Quick Cut™ Plastic Wrap with a built-in side-cutter so you get a clean cut every single time. Faith in humanity restored.
7. The toilet roll was replaced by someone other than yourself.
Your threats were heard loud and clear. Looks like they live to see another day.
8. Found the perfect red lipstick that works just for you, didn't look like a clown.
Dreams do come true.
9. Made something from Pinterest, didn't fail.
You didn't even know Pinterest served a purpose beyond making you feel inadequate. No one is more shocked than you.
10. Arrived on time 3 out of 5 times.
A pure herculean effort on your part.
11. Realized your GIF game is strong.
It's a talent really.
12. Did something for yourself in broad daylight and not when everyone else was sleeping.
Good for you, boo! Keep it up.
13. Organized all the paperwork slowly engulfing every flat surface of your home.
Welcome to your 30s.
14. Painted your fingernails, didn't wake up with bedsheet impressions.
You should call this, "Dripping in finesse."
15. The minivan is still a mess.
Rolling around in a disaster has its upside: Any new spill meets an old spill and you're none the wiser.
16. Googled something, and it didn't end in terminal illness.
Priceless.
17. Paid all the bills on time.
This is not as fulfilling as it should be.
18. Introduced your '90s dance moves to your kids.
You can never go wrong with "The Lawnmower." Also, let them know you are prepared to use it in front of their friends if they don't empty the dishwasher.
19. Thought about taking a vacation.
Sure, you didn't actually plan one, but the one you're taking in your head is absolutely fabulous.
20. Overshared with BFF, she didn't judge.
Because she's even more of a hot mess, and you absolutely love that about her. She probably says the same thing about you.
21. Did exactly zero laundry over the weekend.
You will regret this, but you're feeling pretty good about it now, and that's worth something.
22. The kids think you have no cookies.
It's not lying if you didn't specify that the cookies are in YOUR CLOSET and not the kitchen.
23. We love each other despite ourselves.
Seriously, isn't this the best family victory. Why, yes, yes, it is.
At Reynolds, we think tiny victories, both in the kitchen and in life, are worth celebrating. Learn more about Reynolds KITCHENS® Quick Cut™ Plastic Wrap by visiting the Reynolds KITCHENS® website.
Reynolds KITCHENS® is a leading provider of quality household essentials that have been trusted for generations. Our products make mealtime easier with solutions for preparation, cooking, cleanup, and storage.