'Say Yes To The Dress' Features Transgender Bride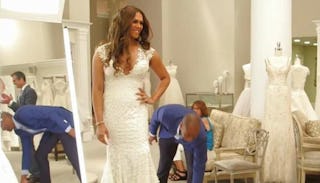 Image via Facebook
"This so super exciting and surreal to me!"
TLC's "Say Yes to the Dress" is running an episode later this month featuring an openly transgender bride. The inclusive move is an exciting one but most importantly, the future bride is thrilled, in love, and looks positively stunning.
New Jersey hairstylist and makeup artist Gabrielle Gibson will appear on the popular wedding series where viewers will get to see her select a gown from the thousands of choices at New York City's storied Kleinfeld Bridal. She shared the news last month in a Facebook post and included a photo of herself in a gorgeous, mermaid-style lace gown.
She writes, "This so super exciting and surreal to me all at the same time. I literally just wanted to go to Klinefields [sic] just to say I went there with my mom!!! And surprise next thing you know I'm picked to be on Say Yes to the Dress!"
Gibson tells Pink News she's always been a huge fan of the show and is excited for the chance to be featured, but also wants to show a positive story about a trans woman living a happy life. "And what with everything going on in the media surrounding violence towards trans women of color, I wanted to show that we are people who just want to live and be happy."
Gibson says her experience on the show was "amazing" and that everyone treated her with respect, from start to finish. "It just felt so amazing to be treated as a bride and a human being, and not a sideshow." She says, "It's validating to know that someone thought I was interesting enough to be a part of the show and wanted to hear my story."
Her fiance Jaden Rogers, who also identifies as transgender, tells the LGBTQ blog Unicorn Booty, "I hope that we serve as an inspiration for those out there who have ever felt unwanted, to know that we are here living as our true selves and that trans women of color are beautiful and deserve to be treated with dignity and respect." The couple is getting married this November.
While the milestone of the first transgender bride on "Say Yes to the Dress" already happened on the Atlanta version of the series, this is the first time for the original, and Gibson is happy to represent. "It was an amazing experience and the crew was an absolute dream. And I can't wait for everyone to be a part of mine and Jaden's story!!"
The episode premieres March 25th on TLC if you want to check out the Pnina Tornai gown Gibson ends up selecting.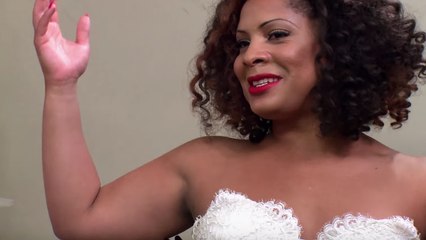 This article was originally published on