2-Year-Old Accidentally Orders $430 Couch From Her Mom's Phone Because, Toddlers
by Julie Scagell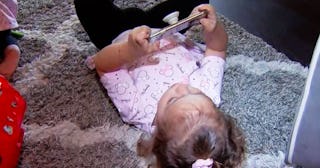 NBC San Diego
Have kids, they said. It'll be fun, they said
If you're like me, 90 percent of the items in your home come from Amazon. If you're also like me, you give your young kids your smartphone multiple times a day because OMG, please take it and give me five minutes to get XYZ done in peace. The problem is having that handy dandy "Buy with 1-click" option on your Amazon app mixed with tiny, wandering fingers, mixed with scrolling for coaches in your free time can sometimes equal a recipe for disaster as one mom learned the hard way.
When San Diego mom Isabella McNeil gave her cell phone to her two-year-old daughter recently, never did she imagine she'd end up with a $430 couch in return, but that's just what happened because kids are hilarious like that.
"I was just so shocked," McNeil told NBC San Diego. "I thought, 'Did I buy a couch in my sleep?'" Turns out she didn't buy it in her sleep but unfortunately forgot to close the Amazon app, leaving a world of possible purchase options at her little girl's fingertips. The little tot decided the family needed a new sofa.
Listen, we get it, little lady. It's fun to buy things online — especially if you aren't the one paying for them. Of course, even when you are paying for them online shopping can be enjoyable. In fact, Americans spend over $39 billion (that's billion with a "B") drunk shopping every year. It's sort of like being a toddler in that you feel you have zero responsibilities or repercussions, right?
Unfortunately for McNeil, the couch was already well underway to being delivered and since large items like furniture have a restocking fee on Amazon, McNeil is now the proud owner of a brand-new couch she doesn't need. She's looking to sell the surprise item herself if anyone's in the market.
For McNeil's part, she says she's learned her lesson about giving her kids her cell phone. "Sometimes, when you're a mom and you're just in that desperation and you just kind of want them to settle down, the first thing you go to is, 'Here, play with my phone for a little bit,'" she said. "It's not worth $179 to just let her play with my phone. Now I'm going to be a lot more aware of my Amazon app."
Listen, I highly doubt parents will stop giving their kids their phones because, parenthood, but it's a good lesson in diligence about making sure all your apps are closed. Or maybe this is the kind of thing all of us need when we're trying to decide if we really need the item we're looking at online. If we hand it to our kid and they order it, it's meant to be (or at least that's how I'll rationalize it in my head from now on).