The Internet Can't Get Enough Of This Toddler Fist-Bumping His Way Onto A Flight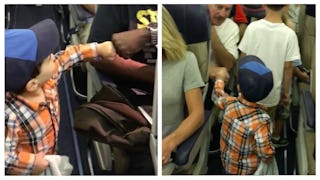 Toddler's way of greeting fellow passengers on a plane is going viral — but he does it for a reason
Air travel is stressful enough for a lone traveler. For a mom flying with kids, it's a logistical nightmare. From keeping track of kids' carry-ons to making sure you have enough snacks, toys and entertainment to dealing with in-flight meltdowns, it can be a real undertaking to get young kids from point A to point B.
One mom just shared a genius way to make the process easier on everyone involved.
Mom Ayla Jakubowicz posted a video to Instagram of her 2-year-old son Guy boarding a flight from Kansas City, Missouri, to Raleigh, North Carolina. As he headed down the aisle toward his seat, Guy greeted every passenger in his path with a tiny toddler fist bump.
https://www.instagram.com/p/BWzzaj2g_Ns/?taken-by=mamaj1822
"My son on the campaign trail, attempting to win the hearts of airline passengers in the hopes of becoming the next Southwest ambassador," Jakubowicz wrote. "He is making flying the friendly skies even friendlier with one fist bump at a time!"
Go ahead. Take a moment and wallow in how good and pure this kiddo is.
Even though he's only two, Guy is already a seasoned traveler, Jukubowicz told the Kansas City Star. And, unsurprisingly, there's a little bit of an ulterior motive behind his adorable habit of greeting his fellow fliers.
"I encourage my kids when we board planes to greet people as we do the family boarding as an insurance policy in case there is a meltdown in the middle of the flight," Jakubowicz explained, laughing. "I figure that people will like us more and maybe not judge us as much. So he's gotten used to greeting people as we board. He has a signature move which is his fist-bump, which is just how he chooses to greet everyone. He does it every time, so I decided to videotape it so I could share it with my husband."
It's a solid plan. Take note, moms. This could be a gamechanger when it comes to flying with young kids.
Now that the video has gone viral, Jakubowicz said she's just glad people are getting a kick out of Guy's bubbly personality.
"It's really all exciting," she said. "It's beautiful that my 2-year-old son has been able to spread so much joy. My husband and I are so proud and happy."
I know Guy made me smile today.