15 Things That Will Make Life With A Toddler So Much Easier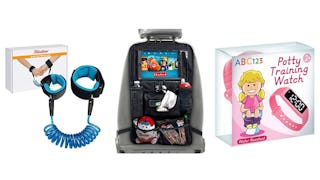 Images via Amazon
Nothing about life with a toddler is "easy."
Toddlers have a ton of passion, but not much common sense. Sometimes they need to be bribed into behaving. Some days all the bribes in the world can't fix the problem, and meltdowns are inevitable.
They fight us about everything, from getting dressed to basic hygiene, and then we have to potty train them on top of all of that. Let's just say they're lucky they're cute.
And here are some things that will help make life with a toddler (a little bit) easier:
These Light-Up Toothbrushes with suction-cup bottoms are perfect for little kids who might need some coercing to brush their teeth. They light up for a full minute, so your toddler knows exactly how long they need to brush for, and make taking care of their baby teeth a little more fun. And they're only $5.88 for a pack of two.
A Car Seat Organizer is a must-have for traveling with toddlers. It helps keep everything they need within arms' reach so that you won't have to constantly hand them drinks, snacks, wipes, tablet, books, etc. And it's currently on sale for $17.95. (Originally $44.95.)
This Safety Wrist Link is great for taking toddlers to a crowded place, theme park, etc. where you can't risk them running away from you or getting lost. Get it for $6.99.
A Portable Toddler Bed is a great investment for traveling and setting up at home (like when they are adamant about sleeping in your room but you don't want to get kicked in the kidneys all night). A good night's sleep is definitely worth $25.99.
This Beach Tent is great for traveling with toddlers. It makes a space where they can hang out away from the sun, play with toys, take a nap, and it even includes little pool that can be filled up in the UPF 50+ shade. And it's only $23.08.
A Travel Tray is another must-have for taking toddlers anywhere. This way they can hold their drinks and snacks in one place, and it has a dry erase board and tablet holder to encourage creativity but keep it safe. Get it on sale for $23.99. (Originally $35.99.)
This Toddler Bed Guard Rail is a good investment for parents because it will ensure your toddler sleeps safely and you can sleep soundly, knowing they won't accidentally roll out of their bed. And it's only $37.92.
RELATED: Best Toddler Bed Rails & Bumpers To Keep Your Kiddo Safe (And Contained)
A Waterproof Mattress Pad is perfect for potty-training toddlers. Just trust me on this one. It's on sale for $12.49 (originally $24.99), so maybe even get two of them so you have a backup.
This Potty Training Sticker Chart is another must-have for encouraging them to use the potty. Get it for $11.97.
A Travel Potty Seat is also super helpful, because you never know when they're going to have to go. And this seat is easily transported, so they'll be able to fit on any potty without worrying about falling in. It's on sale for $14.99 (originally $22.99) and is also available in blue or yellow.
Cotton Training Underwear is essential for potty training, and these prints are as cute as they come. Get this 4-pack for $16.99.
This Potty Reminder Watch is perfect for your kids to be able to remember to go potty all on their own (every 30, 60, or 90 minutes, depending on how you set it up). They're on sale for $19.95 (originally $24.95) and are also available in blue.
Snack Catchers are fantastic if you want to limit the amount of goldfish crackers that end up on your floor. Although a lot of us have dogs just to clean up after our kids for that very reason. These are $5.89 for a 2-pack and are also available in other colors.
Cups With Training Lids are key to limiting spills, which are bound to happen. This set includes 4 cups for $11.99.
An Extra Tall Baby Gate is a good investment if you have an area you want to keep your kid away from. Mine wouldn't stop trying to eat dog food. This is a judge-free zone. And the baby gate is $42.99.
We picked all the toddler products with the best reviews, so we hope you found something on this list that will help you. And just know that life does eventually get easier… right around the time your kid turns 5.
We may earn fees from purchases made via links on this page and affiliated sites. All opinions are our own.
This article was originally published on