Tom Brokaw Accused Of Sexual Misconduct By Two Former NBC Staffers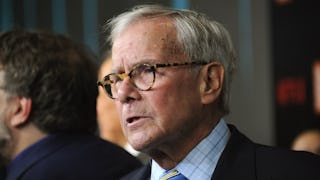 Image via Gary Gershoff/WireImage
Tom Brokaw has been accused of sexual misconduct
Two former NBC staffers have accused Tom Brokaw of sexual misconduct, and their allegations are completely gross and horrifying. They're also sadly unsurprising in the wake of the MeToo movement where a number of famous men have been revealed to be the perpetrators of repulsive attacks.
Linda Vester, a former war correspondent at NBC News, told Variety that Brokaw harassed and groped her in the 90's.
"We were in the Denver bureau, and there was a conference room. I'm standing there, and Tom Brokaw enters through the door and grabs me from behind and proceeds to tickle me up and down my waist," she said. "I jumped a foot and I looked at a guy who was the senior editor of 'Nightly,' and his jaw was hanging open. Nobody acted like anything wrong was happening, but I was humiliated."
She added that no one came to her rescue and she felt completely powerless in the situation. "There was nothing I could really do or say because I was so low on the totem pole," Vester explained.
Then, in 1994, Vester alleges that Brokaw took his inappropriate touching a step further. The news anchor reportedly showed up at her hotel room uninvited – twice. She felt trapped. "I barely knew him and I didn't work for his broadcast," she said. "But when the most powerful man at the network sends you a computer message, you answer him."
Both times, the news anchor tried to pressure Vester into engaging in a sexual relationship. "He grabbed me behind my neck and tried to force me to kiss him," she said. "I was shocked to feel the amount of force and his full strength on me. I could smell alcohol on his breath, but he was totally sober. He spoke clearly. He was in control of his faculties."
Vester explained that she did not report the incident because she was worried she would lose her job. "Women who raise questions about misconduct get labeled as troublemakers," she noted. "It can torpedo your career."
Brokaw has denied these allegations. "I met with Linda Vester on two occasions, both at her request, 23 years ago because she wanted advice with respect to her career at NBC," he said in a statement through an NBC News spokesman. "The meetings were brief, cordial and appropriate, and despite Linda's allegations, I made no romantic overtures towards her at that time or any other."
Meanwhile, another former NBC staffer, who spoke with the condition of anonymity, told The Washington Post a similar story. She was a 24-year-old production assistant when Brokaw allegedly approached her in the hallway, put her hands on his chest, and invited her to his office to talk about her career. The "talking" part of the equation had some other implications, she said. Brokaw denied this allegation as well.
According to Variety, Vester is speaking out today because she wants to "shed light" on the inappropriate culture at NBC News, where she said men treated women as objects.
In the wake of the Matt Lauer allegations, Vester tells Variety she believes an internal review of NBC's practices launched by the network isn't enough — an outside firm needs to investigate in order to fix the culture at the station.
Here's hoping that NBC News takes these allegations very seriously and takes all the necessary steps to get to the bottom of the situation.