Tom Hanks Will Play Mr. Rogers In New Biopic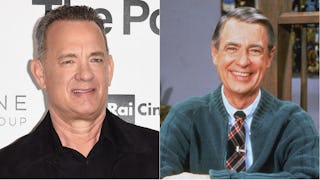 Image via Stefania D'Alessandro/Contributor/Fotos International/Getty Images
Tom Hanks to play Fred Rogers in upcoming biopic
2018 is only (almost) a month in, and already, we have some of the year's best news. Tom Hanks is set to play Mr. Rogers in an upcoming biopic and we're crying tears of nostalgic joy.
It's kind of impossible to come up with two names that make us think "comfort" and "safety" like Tom Hanks and Fred Rogers. Like many card-carrying Xillenials, I'm a huge fan of both, and the idea of Hanks playing someone who had such a pivotal role in my childhood is downright heartwarming.
Variety announced the exciting news yesterday that Hanks is set to star in a story focused on Rogers' life.
The biopic is called You Are My Friend and will be distributed through TriStar Pictures. Diary of a Teenage Girl's Marielle Heller will direct from a script by Micah Fitzerman-Blue and Noah Harpster.
Heller tells Variety, "I'm thrilled to be making 'You Are My Friend.' The script knocked me out with its message of kindness and its exploration of the human spirit. As a mother, I am so inspired by the teachings of Fred Rogers and as a human I am in awe of his life's work. I can't wait to bring his story to the public and be a part of such a thoughtful, smart group of people who are all coming together to make this film, which truly feels to me like an antidote to our very fractured culture."
The film will be based on journalist Tom Junod's real-life friendship with Rogers, who he was tasked with writing a profile piece on 20 years ago. The two remained friends, and through their relationship, Junod's life changed.
"Now more than ever, we all need a re-introduction to Fred Rogers' message of uncompromising love and kindness between all living things. Mari Heller is the perfect visionary filmmaker to bring Noah and Micah's script to life and because of her vision and this remarkable script, we have the quintessential actor to play Fred Rogers," say the movie's producers Marc Turtletaub and Peter Saraf.
The internet is pretty much losing it over the intoxicatingly comforting combo of Tom Hanks and Mr. Rogers.
That's exactly it. Tom Hanks is everyone's dad, and Mr. Rogers is simply the best human ever. Combining the two is a cinematic dream.
Let's get one thing straight — Mr. Rogers is never "meh" but Tom Hanks' involvement definitely makes this a future must-see.
OK, we hadn't considered that, but we're here for it.
Good thing my mom wardrobe is basically leggings paired with 43 different cardigans. Won't you be my neighbor? Bring wine, obviously.
Honestly, I will take to the streets in my very best cardigan and protest if Hanks is snubbed for this role.
There's no word yet on when the film's production will start, but it honestly can't happen soon enough. When a childhood icon as beloved as Mr. Rogers gets the biopic treatment, it's only fitting that someone we hold in as high esteem as Hanks would play the role. We're so glad this will be done right.