Tomi Lahren, Take A Seat With Your Faux-Outrage At Republican Transphobia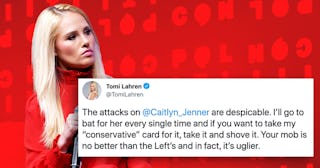 TomiLahren/Twitter and Jason Kempin/Getty
Caitlyn Jenner is running for the California governor's seat against Democratic Gov. Gavin Newsom. Jenner is running as a Republican. Jenner is also transgender. The two adjectives don't often mingle well, yet the trans community is not a monolith, and there are always outliers even in marginalized groups. Despite the Republican party to be the first in line to deny rights to transgender youth and adults, Jenner has happily aligned herself with the party's politics. But the Republican party and its supporters haven't made peace with her.
Last weekend Jenner faced transphobic attacks at the Conservative Political Action Conference (CPAC) in Dallas when people in the lobby of the Hilton Anatole Hotel deadnamed Jenner and called her a "sick freak." Congresswoman Marjorie Taylor Greene (R-GA) also showed her persistent transphobia and urged other Republicans to avoid working with Jenner.
Thankfully, transgender ally Tomi Lahren stood up for Jenner and gave the conservatives a talking to.
Wait. Y'all know part of that sentence is in jest, right? Lahren tweeted some hypocritical, self-serving bullshit in defense of Jenner, but she's not an ally or suddenly outraged by transphobia.
I'm a transgender person who believes in a social democracy and I disagree with Jenner's politics and opinions on certain issues that affect the transgender community and transgender athletes. But I also believe she deserves to have her gender identity, name, and pronouns respected. I can find plenty of things to not love about Jenner, but the fact that she is transgender isn't one of them. The quality of her character is not defined by her gender any more than someone who is cisgender. And just as much as Tomi Lahren says she doesn't think Jenner should be bullied because she is transgender, what she is saying is that she doesn't think someone who thinks like her should be bullied. Lahren is outraged because folks don't like her.
This is laughable.
While Lahren managed to once again show her ass, her heart did not grow three sizes. She did not apologize for past narratives that harm the transgender community or even show actual support for transgender folks. She didn't make an attempt to amplify our voices or denounce the horrific bills targeting transgender youth and their affirming doctors and parents. Tomi Lahren instead found someone who is amplifying her message and decided to latch onto Jenner in a way that benefits what Lahren wants.
Folks on Twitter also saw this and were quick to question her inconsistent bigotry. @tonyposnanski pointed out that Lahren doesn't believe transgender youth should have access to hormone blockers or hormone therapy and rightfully questioned Lahren's motivation behind waving (hiding behind?) a transgender flag.
@davidbadas added to Tony's point by collecting other tweets Lahren has written over the years that very clearly show her ignorance and lack of outrage when it comes to fighting against transphobia.
The only thing consistent about Tomi Lahren is her consistent self-loyalty.
Her inability to change.
Her hypocrisy.
And need for attention.
Don't let Lahren's finger wagging confuse you: She is still a transphobic twit who doesn't give a fuck about transgender people or even Caitlyn Jenner—transgender or not. Lahren wants someone who will trumpet her political views, and doesn't care who is playing the music.