5 Best Countries In The World To Raise Kids
by Emily Leary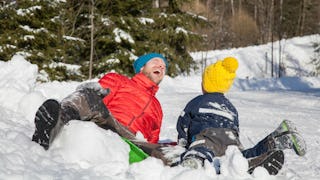 Tiina & Geir/Getty
You can usually control where you send your kids to school, what they eat and when they go to bed, but most parents can't control a large amount of what their kids do, and prominently, the country in which they are raised. Most of us end up raising kids in the country where we were born and have spent most of our lives. If you're lucky enough, that country will aid you in your mission to nurture your bubs into brilliant young humans. But where are the best places to grow up?
If you've never moved your family abroad, then chances are you've made do with whatever healthcare, education, and maternity leave systems there are available where you live. Whether they're the best, or the worst. There are some (privileged) countries that have curated the best possible environments in which to raise children, with world-class education systems, universal (or close to) healthcare, low crime rates, active and healthy lifestyles and superior maternity leave laws. In a perfect world, all countries would have this.
Even if we're raising them in quite a well-rounded place, we parents can't help but wonder which nations in the world would offer our kids the best possible upbringing. Well, I've done some research and it's clear that these five locations offer the best possible environments to help you raise your younglings.
Finland
A survey by InterNations, which is the world's largest network for people who live and work abroad, found Finland to be the best country for raising a family. No expat parent had anything bad to say about their children's health, safety, or well-being in Finland.
Finland also has some of the best schools in the world, with one of their biggest educational mantras being – "let children be children." Case and point – school doesn't start until they are seven, they get regular breaks, school days are short, and homework is light. According to the InterNations survey, 70% of expats said the quality of education in Finland is excellent, while the global average was just 21%.
It seems parents in Finland are also raising their kids around a lot of positive energy. Finland has jumped up the world happiness list, and as of 2018, it is now the world's happiest country. The country has also been touted as the safest and best governed country in the world.
A big thing the kids might be missing out on? Sunshine. Seemingly, the sun doesn't come up at all during parts of winter! But they do get a lot of time outside during school, so that's a plus.
Canada
Huge draw cards for living in Canada are its exceptional healthcare, high employment rates, and low crime statistics. But Canada is also known as a massive cultural hub, with amazing music, film and art scenes in its major cities – so it's perfect if you want your kids to grow up to be cultural prodigies.
If your family is outdoorsy and into hiking, biking, fishing, kayaking, skiing or sledding, then you'll love Canada's iconic lakes, snow, mountains and national parks. Canada is also home to three of the world's most liveable cities: Calgary, Toronto and Vancouver.
Australia
The land of sand, sea and sunshine – Australia isn't just a holiday to tick off the bucket list; it's also one of the best places in the Southern Hemisphere to raise your younglings. Why? According to Unicef's Fairness for Children report, Australia is the best non-European country to raise kids; coming 13thin the world, trumping the USA (18) and the United Kingdom (14).
Even though it has quite a high cost of living, it's quirky history and culture and the fact that it's home to three of the world's most liveable cities: Melbourne, Adelaide and Perth make up for it. With a modern culture paired with amazing food, great weather and a seriously chilled out way of life; who wouldn't want to grow up down under?
Denmark
Denmark's Copenhagen was named the world's best city for families in the Family Index 2017. With good results in safety, happiness, healthcare, maternity laws and activities for children, Denmark a brilliant place to raise a child. Not only that, but Denmark has one of the most generous and flexible parental leave systems in the EU. The scheme entitles both mothers and fathers to 23 weeks of paid parental leave.
According to a study in The Journal of Pediatrics, Danish parents also tend to raise babies who cry less and grow up to be happier kids. Hmmm… could it be all the parental leave helping them out?
Sweden
The U21 ranked Sweden as having the second best school system in the world, closely following Japan. Even though Japan outranks Sweden and pretty much every other country with its school system and low crime rates, Sweden ranks fifth in the world for the best places for kids to live in. Crime rates and violent crimes are also low in Sweden, as well as throughout most of Scandinavia.
So – where is the best country in the world to raise your kids? Chances are your child will be happiest in a place where you feel happy and your whole family feels safe, comfortable and supported by a reliable network, like a strong family or community. So, even if you don't live in one of the world's top 5 countries to raise kids, there's a good chance you'll still be able to build the foundations of a happy family, and ensure your child grows up well-adjusted, educated and happy.
This article was originally published on