Town Throws Girl With Terminal Cancer A Prom, Wedding, And Birthday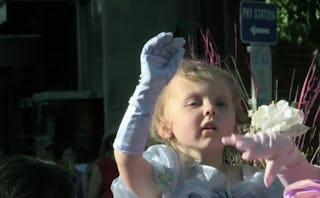 Lila May Schow is a 5-year-old who has been battling stage four neuroblastoma for three years. Her doctors recently told her family Lila's body is no longer strong enough for chemotherapy treatments. They have given her until Thanksgiving to live.
With the thought that her 5th birthday may be her last, her parents decided to put together something really special for her, and started a Facebook group to get things organized. The family's Oregon community really rallied around them to organize an incredibly special day for Lila, and on July 31 they all came together to make sure Lila's birthday was amazing.
What do you do for a little girl who may only have one birthday left? Her family decided to throw her a birthday, prom, and a wedding. Imagine that? Having to roll future events into the birthday of your 5-year-old, knowing that she probably wouldn't live to see them. It's excruciating to think about.
Her mother, Heidi Hall, said of the event, "I'm stunned. This is everything I ever wanted and more. Lila got here and her eyes got so big." Hundreds of people gathered to celebrate. Lila arrived on a horse drawn carriage. There were princesses and beautiful cakes. There was a rolling red carpet where Lila's father "married" her in a ceremony so they could have their father-daughter dance.
Their Facebook page tells the story of a girl who has been through so much in her small time on this earth: surgeries, chemotherapy, and pain. Hall says of Lila, "She's been through so much and she still loves people. She never stops fighting." Is there anything worse than a parent who has to watch their child suffer and wonder how many minutes they have left to love them? Lila and her parents deserve as much joy as they can get in the moments they have left together — and it's wonderful that their "village" is gathering around them now to give them whatever strength it has to offer.
Hall has some advice for parents: "Love your kids. Love them when they're healthy and appreciate what you have."
This article was originally published on