The First Full-Length 'Toy Story 4' Trailer Is Here!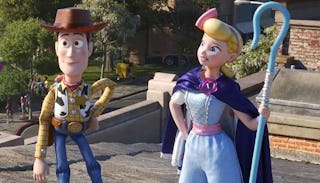 Image via IMDB/Disney
Finally we get to see what Woody, Buzz and the rest of Andy's toys are up to in Toy Story 4
Forget summer vacation. As the sunny warmth of summer creeps ever closer, so does the most important date of this calendar year: June 21, when Toy Story 4 will finally hit theaters. There's been a lot of speculation about how the story will continue after the third installment seemed to wrap up the lives of Andy and his toys pretty neatly, and now, we're finally getting some clues. That's right — the first full-length trailer for the new sequel is finally here.
Disney-Pixar just dropped a whopping two minutes and 28 seconds of scenes from what's sure to be one of summer's biggest blockbusters. Without further ado:
We already knew from the previously released teaser trailer (and director Josh Cooley's spoilers) that the new movie will follow the journey of "Forky," a spork-turned-school-craft-project who, with the addition of some sparkly pipe cleaners and googly eyes, has become Bonnie's favorite new toy. Except Forky knows that deep down, he's a spork. As he puts it in the new trailer, "I am not a toy. I was made for soup, salad, maybe chili, and then the trash!"
He's not wrong. It's no wonder Forky is having a little bit of an identity crisis. But since Bonnie loves Forky, and Woody loves Bonnie, our favorite Sheriff has taken it upon himself to ensure Forky sticks around so Bonnie can play with him to her heart's content.
Hijinks ensue, including a family road trip, a theme park, Woody reuniting with lost toy Bo Peep and more. The trailer is full of hilarious lines, but also the touching, tear-jerking moments we've come to expect from the Toy Story franchise. Like when Woody wonders aloud, "I was made to help a child, but I don't remember it being this hard."
Yeah, try to listen to that line in Tom Hanks' dulcet tones and not get teary-eyed, I dare you.
Basically every living adult right now has grown up with the Toy Story 4 gang in some capacity, so reactions to the new trailer are as emotional as you might expect.
https://twitter.com/jetpack/status/1107991042446503936https://twitter.com/jetpack/status/1107991639962931207https://twitter.com/jetpack/status/1107994249176465408
In short, this trailer is making people believers in the need for a fourth installment, even though the third ended on such a heartbreakingly perfect note.
https://twitter.com/jetpack/status/1107997231007830018
And while the release is still months away, the emotional roller coaster has already begun. Back in January, Tom Hanks shared on Instagram that the cast had officially wrapped recording for the movie, and hearts everywhere could hardly take it.
This summer will also see the release of Disney's live action remakes of both Aladdin and The Lion King. Basically, for Disney stans, summer 2019 is the moment we've been waiting our whole lives for.
As of press time, there's just over three months to go before the summer of Disney begins. Until then, we'll have all these trailers playing on a loop.
This article was originally published on