You Can Buy Your Kid A Toy Vacuum That Actually Works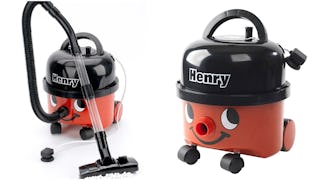 Image via Amazon
This toy vacuum isn't just a toy — it actually "sucks"
If you're like me, you're constantly telling your kids to pick up after themselves, which is futile at best because kids by design create messes wherever they go. If it's not food droppings, it's wrappers, clothes, toys — hell, my son once dropped a jumbo-sized box of Nerds in our kitchen that we're still finding two years later (the gift that keeps on giving). Amazon is making things a bit easier though, selling a replica Henry vacuum made just for kids.
According to the description, "Casdons' Little Henry Vacuum is a direct replica of the real thing. Now your children can join in house-cleaning fun." I don't know many people (or any) who think cleaning the house is "fun" but whatever you need to tell your kids to get them to lift a finger.
"With its cheery, red face and friendly smile, it'll become a valued member of the family in no time. This Little Henry really works, picking up small bits of paper waste or small Poly Beads. The waste is then sucked up into a removable drawer, which is quick and simple to empty," the description continues. I'm thinking the emptying of the vacuum will make a bigger mess than it cleans up, but hey, it's worth a shot to have another set of hands to help around the house.
Henry is a canister vacuum made and sold by Numatic and was brought to popularity in Europe, with over six million in use. There are several makes, including Charles, Harry, George, and the second most popular, Hetty. It's most notable for its human-like face on the body of the vacuum, tricking you into believing that vacuuming is fun.
Like the original, the cord reels in for handy storage, and according to the manufacturer, its accessories fit neatly inside. Then all the parents laughed and laughed, picturing their kids actually taking the time to do so.
The vacuum is recommended for children aged three years and older or husbands of any age. It only weighs three pounds, so your kids can pick it up and bang it against the nearest wall with ease. The Henry is priced at $21 and is available for Amazon Prime free shipping, which is pretty nice considering the adult version is almost $400. (Can you really put a price tag on a smiling vacuum following you around the house?)
Of course, one of the first questions asked on Amazon is "does this thing make noise," because we all know how annoying kid's toys are when they make any sound whatsoever. Apparently, it does and requires batteries, "but it's not the same caliber noise as a standard vacuum." Bless.
This is an adorable toy and one, like any other, that your kid will lose interest in about three days after receiving. But hey, that's three days of help around the house and that's more than worth the 20 bucks it costs.
This article was originally published on