10 Toys That Won't Annoy The Parents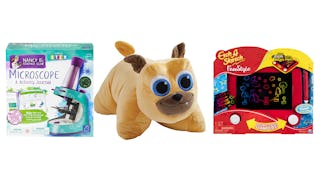 Images via Walmart
No beeping, screeching, assembly, or injuries this year.
Kids love toys that wind up underfoot and injure you. They also love toys that beep, screech, and don't turn off. Oh and let's not forget the toys that require so much assembly that the kids have gone to college by the time you're done.
Well not this year, kiddos! 2018 is the Year of the Toys That Won't Annoy The Parents. Yes, such toys really do exist. This list is for anyone buying a toy for their kid, but it's especially for anyone buying toys for kids who aren't theirs. Don't be a d**k.
Foam was invented so that the parents can sleep in. The kiddos can enjoy quality (quiet) creative play with the eWonderWorld non-toxic 70-piece block set while mom rests. Plus, if you step on the pieces, you don't have to go to urgent care.
For the little one who loves to destroy everything with markers, the Melissa & Doug Water Wow collection is a godsend. Simply fill the pen with water, yes water – the only wet thing that doesn't give moms a heart attack- and the pad will reveal beautiful colors. No mess! No marker toxins! Melissa & Doug, don't ever stop being you.
Clay is evil, but there are alternatives. Crayola Model Magic is an air-drying, multi-color modeling material that won't crumble or stick to hands. Make figurines or even DIY slime!
These little guys are so cute! Made of synthetic leather and sponge, this bowling set will have kids throwing gutterballs, spares, strikes – who cares, they're outside! Also irresistible: the neat, compact little package that you can store on a shelf and forget. *Mom drool*
Kids will love the bath if they have a trusty yellow submarine toy! They can blow bubbles in the periscope, spin the rudder, sink it, float it, and play pretend until their little hands are pruny. For the parents: no squeaks, no water squirting, no problem.
You can't go wrong with stuffed animals, but what if the animals were actually integral to the bedding? Introducing Disney Junior's Puppy Pals Pillow Set. The Bingo and Rolly figures – based on the hit kids show Puppy Pals – are cute and cuddly, but they're also functional 16-inch pillows. Mom, you're a genius.
Yes, Lite Brite still exists, and it is still magical. Our parents must have loved this toy in the 80s. It kept us occupied forever, it's noiseless, creative, and kind of pleasant. The only annoying thing: you'll have that damn commercial jingle in your head for the rest of your life.
Nancy B's Science Club Microscope isn't just a cute kids' microscope, it's an experience. Under the guidance of an activity journal, kids can look at everything from peacock feathers to their own skin cells at up to 400x magnification. It's a lightweight treat for budding STEM-lovers ages 8-11, which is great for any proud mom and dad.
We Millennial parents remember fondly how we voraciously read the Goosebumps series and got scared, but not that scared. This hit game will get parents playing right alongside their kids, and they don't even have to deal with a package: the game comes in the form of a PC digital code. If nothing else, get it because it's not Fortnite or Minecraft.
When in doubt, go with the classics. The Etch a Sketch Freestyle etches in rainbow, and the knobs double as stamps. Shake it out to start all over again. There's a reason why the Etch A Sketch formula has endured so long: it's a noiseless, mess-less, creative hunk of perfection. Mom and dad will probably want to play with it, too.
We are a participant in the Walmart.com Affiliate Program and may earn fees by linking to Walmart.com and affiliated sites.
This article was originally published on