Toys 'R' Us Filed For Bankruptcy Last Night
by Jerriann Sullivan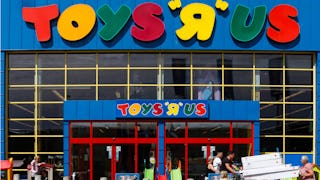 Image via Shutterstock.
Retail giant files for Chapter 11 bankruptcy
As Amazon sweeps through the nation buying up its retail competitors, some stores are struggling to keep the doors open, including Toys 'R' Us Inc. The toy giant made a Chapter 11 bankruptcy filing last night, the New York Times reports.
"This filing is really a buildup of financial problems over the past 15 years," Jim Silver told Bloomberg. He's an industry analyst and the editor of a toy-review site. "Finally, the straw broke the camel's back," he explained. Basically, Toys "R" Us has a large debt bill to deal with soon. Bankruptcy would let the retailer restructure $400 million in debt that it is scheduled to pay next year. After that, Toys "R" Us could stay in business and rebuild. Sure they would be a smaller company, but the process would make them more financially stable, which is kind of important when you're running a business and employing people.
We still remember the joy of flipping through the Toys 'R' Us catalog every year ahead of Christmas. Circling our favorite items so mom and dad didn't get confused was our top priority during the holidays. But now that we're parents the world has blessed us with pants-free commerce: otherwise known as online shopping. And while Toys "R" Us hasn't released a statement blaming our affinity for shopping without pants on as a reason for their bankruptcy — we're still feeling slightly guilty about our love of free two-day shipping. The largest toy chain in North America filing for bankruptcy could be considered somewhat scary news for retailers. But it doesn't necessarily mean anything will change currently.
The company says its 1600 Toys R Us and Babies R Us stores will still operate as usual. In a statement last night, the company said the filing would help with its long term growth plans and "fuel its aspirations to bring play to kids everywhere and be a best friend to parents."
Toys 'R' Us would still have to deal with my overwhelming laziness that prevents me from leaving the house and instead results in my husband screaming about all the Amazon boxes. But experts have said once the company's crazy debt is handled the toy giant could finally invest properly in beefing up its online presence. So it is unlikely that our beloved toy store would shut its doors entirely, which is great since we don't want to grow up, we're Toys 'R' Us kids.
This article was originally published on