Toys R Us To Close All US Stores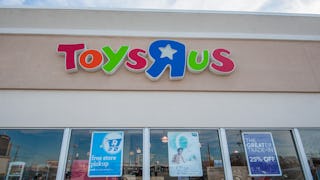 Image via Patrick Gorski/NurPhoto via Getty Images
Toys "R" Us will close all its U.S. stores and should be offering items at deep discount soon
Last week, speculation that toy retailer Toys "R" Us would close its stores kicked into high gear. As the company considered several options for handling their sizable debt, closing up shop seemed the most likely.
And now, it's official: all stores in the U.S. will be closing for good.
According to CNBC, the company had already begun liquidating 180 of its stores in the wake of their bankruptcy filing last year and while they plan to either close or sell all 800 remaining locations, there's a plan under consideration that could save 200 stores if it can find a buyer. This would mean saving their Canadian locations as well.
The liquidation of 180 stores has been underway since last fall when the retailer filed for bankruptcy over nearly $5 billion in debt. The liquidation was part of an effort to restructure the company and revive its business.
Clearly, it didn't pan out.
As the company struggled to pay its loans, lenders were pushing for them to liquidate, but the reasoning behind the chain's mounting debt and dismal performance isn't necessarily what people assume. A piece from CNN Money explains that online shopping behemoth Amazon is not the biggest blow dealt to the brick and mortar toy retailer. Instead, blame good old crappy business practices and not spending the money needed to compete.
"If you're going to have that breadth of inventory, you need someone in the store to help you find it, help you experience it," says Greg Portell, lead partner at retail consultant A.T. Kearney. "It's hard to sell toys in a cold, warehouse environment."
In other words, the company's biggest problem was their billions in debt that stopped them from updating stores and paying enough for employees, both to hire enough of them to make customers happy and to pay enough to keep good employees. "Better employees make for happier customers," said Toys "R" Us CEO David Brandon in an SEC filing last fall. In that same filing, Brandon admits the chain had fallen behind "on various fronts, including with regard to general upkeep and the condition of our stores."
Of course, it also didn't help matters that companies like Walmart and Target have become highly competitive in toy sales over the last several years. Mattel and Hasbro each sold twice the amount of their toys at Walmart last year as they did at Toys "R" Us. Target sold the same amount as Toys "R" Us for those manufacturers.
If we're looking for a plus side here (and as a Toys "R" Us kid from way back, I definitely am) stores should start to offer super deep discounts on toys in an effort to close their doors as quickly as possible. As Business Insider notes, the longer they stay open, the more rent they'll have to pay their landlords. And a company with $5 billion in debt probably won't want to incur more than they have to in operating fees.
That said, if you have any TRU gift cards burning a hole in your pocket, it's best to use them ASAP. They're good for another 30 days, but if prices go as low as experts predict, there might not be much left to buy if you wait too long.
Time for one last trip to our childhood mecca before it's gone for good.