Admit It. You Envy the Woman Who Fled Her Life for the Caribbean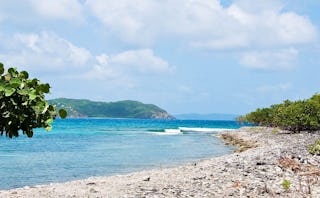 It sounds like something most people might daydream about, but blogger and author Noelle Hancock actually did it, and took to the web to explain why. Not that it needs explaining, when you look at the photo of Hancock looking exuberantly joyful as she jumps on the beach in her bikini, gorgeous blue water in the background. The picture alone tells you that this is not a person with regrets.
Hancock was a New Yorker before she took the leap, making $95,000 a year as a journalist and living in a small East Village apartment. She had overscheduled friends, a heavy reliance on electronics, and a constant longing for a vacation tempered by a strong case of complacency.
When she realized she'd lost interest in the jobs she was being offered, she started wondering if it was possible to change things completely. Could she go to places where other people went on vacation, and live there? She posted a message on Facebook asking for ideas, and six weeks later she got off the boat in St. John in the U.S. Virgin Islands.
A 31-year-old Yale graduate, Hancock found more happiness scooping ice cream for $10 an hour than she had in her previous job. Now she's working as a bartender. Her life, she says, is "remarkably similar to the stock photo that was [her] screensaver four years ago."
Why is this resonating with so many people? Maybe we all get so stuck in our routine and our plan that sometimes we forget to stop and take stock: is this really the life we wanted? Are we happy? You look at Noelle Hancock, jumping on that beach, and think, she may just have something there.
The only time I've been to that part of the world was on my honeymoon. We went to Virgin Gorda, in the British Virgin Islands, recommended by a coworker when we said we wanted somewhere far away from the maddening crowds. We were married in September of 2001 but waited until December to take the trip. Four months after the terrorist attack on the World Trade Center, we were looking to go somewhere where nobody would talk about it, which is exactly what we found. With a zero percent crime rate and breathtaking beaches, it was the perfect choice. When people found out we were from New York, they'd acknowledge recent events simply and quickly. "Everybody OK?" they'd ask, meaning friends and relatives. We'd nod a yes, and a mutual understanding was born: let's just be in Virgin Gorda today.
The people who left us with the strongest impressions were:
1. The 'skipper' of the boat who took us on our sunset sail, a former highly successful real estate broker from Toronto (my hometown). He moved there, bought a boat, and spent his days showing people around the islands.
2. A guy who owned a little snack bar, right on the water. Says my husband, "That guy whose life I still want had a sandwich shop that seemed like it was just the downstairs of his house—it was Tortola, near the airport. With every line of code I write, instead of making sandwiches by the beach, I feel the one life I have slipping away." (I just happened to ask him about this while he was in the throes of a high-pressure project, poor guy.)
3. The chef/owner of a small restaurant near the tiny airstrip, where there were no menus. We ordered pancakes. "I put some Grand Marnier in there," he told me happily as he set them down. He did what he wanted, and nobody complained, because there was nothing to complain about.
Hancock is now starting to think about moving somewhere else, because why can't she? She likes Europe, too. She writes that there's a J.R.R. Tolkein quote that pops up on t-shirts and bumper stickers where she lives: "Not all those who wander are lost."
Food for thought.
This article was originally published on