'Trading Spaces' Is Coming Back And The Trailer Is Finally Here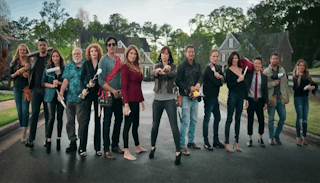 Image via Facebook/TLC
The new series premiere will air on April 7th so get your recording devices ready
Calling all Trading Spaces fans — although the series premiere of their much-anticipated reboot is still a few months away, TLC just dropped a trailer of the first show and it's everything you wanted it to be and more.
Trading Spaces, the hit home improvement show made famous on TLC when it aired in 2000 for it's memorable designers and even more memorable (and a few regrettable) redesigns, announced it would be returning to TV in 2018, after a 10 year hiatus. Fans have been on pins and needles since, but look no further for your first glimpse at the upcoming season, airing this April.
There's so much screaming in this video, which I would normally be opposed to because, well, I have kids, but holy shit Vern Yip is back, baby, so scream to your heart's content.
https://www.instagram.com/p/Bd3fgL7l2zR/?taken-by=tlc
Along with Vern, designers Doug Wilson, Genevieve Gorder, Hildi Santo-Tomas, Frank Bielic and Laurie Smith will all be making an appearance this year. And who can forget the adorable carpenters, Ty Pennington and Carter Oosterhouse? Have no fear, they're back as well.
There will also be some new designers, including the infamous interior design couple Nate Berkus and Jeremiah Brent, stars of Nate and Jeremiah By Design. Sweet baby Jesus, just when you think things can't get any better.
For those of you new to the hit show, two sets of neighbors will be given $2000 (which used to be $1000 when the show originally aired, but times have changed and Joanna Gaines gave us new decorating #goals so the budget has gone up) and are allowed to redecorate one room in the other person's home, which is really fun and also really stressful if, say, one of the designers (cough Hildi) makes a room in your home into a giant beach cabana — complete with sand.
For the most part, contestants are happy with their makeovers and you can get a lot of inspiration on how to redecorate rooms in your own home on a budget. But there's bound to be some surprises this season and for better or worse, we will be glued to our TV screens to watch it all unfold beginning April 7th at 9 EST.
This article was originally published on