Lorena Bobbitt Finally Gets To Tell Her Story In Upcoming Docuseries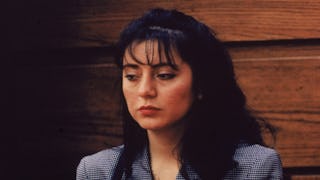 Image via Consolidated News/Getty Images
This new series offers a long overdue look at Lorena Bobbitt's side of the story that shaped the '90s
If you were alive in the '90s, you undoubtedly remember the headlines surrounding Lorena and John Bobbitt. She severed her husband's penis after he allegedly raped her — but at the time, the media frenzy surrounded the act itself, not what lead up to it.
The trailer for the new docuseries, Lorena, re-examines her troubling story. And this time, it's from her perspective.
The new Amazon series, produced by Jordan Peele, promises to give viewers a "fresh perspective" about Lorena, her marriage to John, and the infamous trial that followed.
It looks like the series will leave no stone unturned — specifically when it comes to Lorena's account of what happened.
The Bobbitts have both previously admitted their marriage wasn't a healthy one. Prior to the incident, both made 911 calls against one another on more than one occasion. Lorena alleges John was physically abusive and sexually violent, and once forced her to undergo an abortion.
She claims he regularly threatened to have her deported back to her home country of Ecuador. John was unable to secure steady employment after his discharge from the Marines, and the couple was surviving solely on Lorena's salary as a manicurist.
The night of the incident, both John and Lorena say they had agreed to separate for good. John came home after a night of drinking, and, according to Lorena — he raped her. John claims the sex was consensual. Either way, Lorena went to the kitchen, grabbed a knife, and severed John's penis.
"I didn't want to teach him a lesson," Lorena said in an interview with Vanity Fair last summer. "No, it was survival. Life and death. I was fearing for my life."
John's penis was surgically re-attached after authorities located the severed body part (Lorena had flung it out of her car window while escaping their apartment). Both Bobbitts were put on trial. John was found not guilty of marital sexual assault, and two months later, Lorena was found not guilty of "malicious wounding" due to temporary insanity.
Throughout this entire ordeal, the Bobbitt case became pop culture fodder. What should have been treated as a serious, disturbing case about an unhealthy marriage turned into a media circus with tons of penis puns and punchlines.
It'll be very interesting to see how this docuseries handles the serious allegations of rape and abuse now that we're in the #MeToo era.
When Peele first announced the project last year, he made it clear that while all facts will be presented, this is very much Lorena's story. "With this project, Lorena has a platform to tell her truth, as well as engage in a critical conversation about gender dynamics, abuse, and her demand for justice," Peele says. "This is Lorena's story, and we're honored to help her tell it."
Both Bobbitts participated in the upcoming Amazon series, which premieres on Amazon Prime on February 15th. "I didn't choose to be in the spotlight," Lorena says in the trailer. "But there's no going back."
This article was originally published on