If You've Got a Babies 'R' Us Registry Or Gift Card, Here's What You Need To Know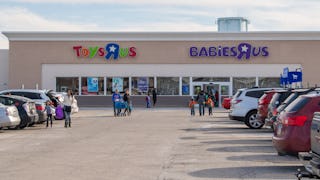 Image via Getty Images/Patrick Gorski/NurPhoto
Babies "R" Us gift cards should be used and registries should be transferred as soon as possible
If you've had a baby and registered for an upcoming baby shower or to give friends and relatives an idea of all the onesies, matching teeny socks, and wipe warmers (that you'll inevitably never use), odds are you did so at Babies "R" Us. The behemoth one stop shop for all things babies had all the staples new parents needed, but as with all good things, eventually it has come to an end.
Last week, Toys "R" Us announced they're selling and closing their U.S. locations which naturally left many wondering what was to become of the baby registries they spent so time creating. Unfortunately, it's not great news. The store just confirmed that their registries will be shutting down and it's up to consumers to transfer their registry to another store. Though they did say the registries, as well as Rewards "R" Us and Geoffrey's Birthday List will remain open "for a few weeks" in hopes someone will buy their assets, it's not looking good.
People are not taking the news well:
Not only is the news of these store closings pulling on our childhood heartstrings, but the baby registry news is even more heartbreaking. There is so much time that goes into building a registry and more than that, a ton of emotion during an already emotional (and hormonal) time. You painstakingly pick out every single item picturing your little one using it. Of course, it's not the end of the world but it's upsetting nonetheless.
This latest announcement comes months after Toys "R" Us filed for Chapter 11 bankruptcy while they tried to cut some of the more than $5 billion debt. But a piece from CNN Money explains not only was it their debt that crippled the store but that they continued to invest in brick and mortar stores over their online presence and simply couldn't compete omg this is the Blockbuster of this generation please make it stop.
If you have a gift card or store credit, you're gonna want to use that pretty quick, too. A company spokesperson said their rewards dollars, Endless Earnings, and gift cards will only be honored for the next 30 days, CNN reported.
If there is one small silver lining, all stores will be throwing out some major sales as the closings come closer. According to CNN, sales will likely start off in the "20-30%, but eventually climb to 75-80% off. Any purchases made during the store closing process are final sale, according to the company."
Not that anyone wants to take advantage of an unfortunate situation and of course we'd rather have the stores not closing at all, but for those preparing for a baby or shopping for their kids, every little bit helps.