14-Year-Old Transgender Girl Slays In Viral Anti-Bullying Video
by Megan Zander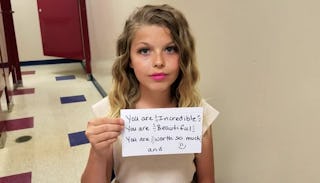 Image via The Bully Project
Transgender teen Corey Maison shares her story of overcoming bullies in viral video
Corey Maison is a beautiful, happy teen girl with some of the most gorgeous eyelashes you'll ever see. But the 14-year old wasn't always so smiley. Maison is transgender and dealt with extreme bullying growing up. She made an emotional video detailing her experiences for the BULLY Project, which is now going viral.
Using a series of flashcards filled with text, Maison chronicles how growing up she used to love playing with dolls, painting her nails and trying on her mom's high heels. Even though these things made her happy, she never felt comfortable doing them outside of the house because she was born a male.
She had trouble making friends in school as she didn't fit in with the girls and the boys made fun of her. As Maison and her peers got older things came to a head.
The bulling was so constant that most days she came home in tears. Her classmates would lie in an effort to get her into trouble. One boy went so far as to tell Maison to kill herself.
Maison's parents decided enough was enough and pulled their daughter out to be homeschooled, where she could be herself. But as it turns out, adults can be bullies, too. Maison shares a time when she went to the store with her mom dressed in girl's clothes and how amazing she felt, until strangers ruined it. People started pointing and talking about Maison. One brazen bitch even took pictures.
Taking pictures of a kid you don't know? Never, ever, cool.
Maison felt more alone than ever, until her mom showed her a video of activist and fellow transgender teen Jazz Jennings. It was then that Maison had a term to articulate all the things she had been feeling since she was a little girl.
Maison's life changed dramatically after her realization. Her parents found her a therapist experienced with transgender youth, and she began the transition from male to female by growing her hair and learning how to apply makeup. On her 14th birthday Maison began hormone treatment therapy to undergo puberty as a girl.
Now that she was confident in who she was, Maison asked her parents to go back to public school. They found a small, accepting school where Maison plays on the girls' soccer team and uses the girls' bathroom and locker room.
Although she loves her life, Maison doesn't forget what it was like to be bullied. She ends her tale with the statement that, "bullying is never okay," and reminds kids who are being bullied things can and will get better and that they are loved.
It's impossible to not be in awe of this girl. Her commitment to helping other kids who are being bullied and the grace with which she speaks about those who teased her and mistreated her in the past is something we all can learn from, no matter our age.
If you want to see the video in full, it's below. Fair warning though, the song is called Misfit by High Dive Heart and it's super catchy.
This article was originally published on