9 Travel Goodies To Make Your Family Vacation Even Better (Or Easier)
by Christine Organ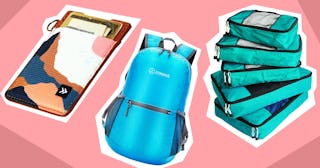 Scary Mommy, Thread Wallets and Amazon
A few years ago, our family had the vacation from hell. My younger son came down with a stomach bug and spent damn near the entire vacation vomiting. After spending several hours in the ER getting intravenous fluids and undergoing a battery of tests, he eventually recovered just in time for us to pack up and head home.
If ever there was a need for a vacation from our vacation, that was it. But I would have settled for a dark room, some noise-canceling headphones, and a big glass of wine.
Let's face it, even your run-of-the-mill vacation with kids can be stressful AF. First, there's all the shit that needs to be packed in the teeny-tiny carry-on bag. Then there's the in-flight tantrum or mid-car ride "Are we there yet?" whines. Once you've arrived at your destination, you're basically doing all the parenting things you did at home — wiping butts, breaking up fights, finding lost blankies — but now you're doing it in a strange location and everything is covered in sand. We parents need all the help we can get.
Well, we here at Scary Mommy have got you covered. We might not be able to do anything about the incessant whining, but we can help with almost everything else.
I don't know about you, but I'm absolutely paranoid I'm going to lose my identification and get stranded somewhere. Maybe that time I actually did lose my ID the day before I was flying home and didn't know how I'd get through airport security has scarred me. Who knows. In any event, it's helpful to keep all your important cards and IDs in one handy place. Enter: Thread Wallets' vertical card holders. They are tiny and stylish, but they hold up to eight cards at once. Not to mention they are equipped with Radio-Frequency Identification blocking protection.
When you travel, you need your hands free as much as possible to schlepp all the extra stuff you have. This can get even trickier when you need to carry a baby too — which makes a baby carrier absolutely essential to traveling (and life in general). This baby carrier has five different options for all kinds of weather. Plus it's cute and comfortable.
If a beach vacation is in your future, you need this beach cart. Because kids and a shit ton of stuff go hand in hand, and nothing ruins a day at the beach quicker than 15 trips back and forth to the car to schlep all that crap. Throw it all in this beach cart, and you're set with one trip (okay, maybe two). Even better, its wide wheels mean it'll glide over the sand, so you won't dig your own ditch of despair.
Packing for vacation is a giant pain in the ass, but so is unpacking — especially when everything got all jumbled-up in transit and your bikini top is now hidden under your preschooler's Wonder Woman undies. This packing cube system lets you pack each person's clothes separately, but then put them all in the same suitcase so that you aren't getting hit with those obnoxious baggage fees.
I don't know about you, but our family always ends up coming home with more stuff than we started with — usually in the form of a few large stuffed animals that the kids will forget about in a couple weeks, but I digress. This foldable backpack fits in your luggage and can be used when you need to bring home all those extra tchotchkes and souvenirs.
RELATED: 26 Best Kids Luggage Pieces For Your Next Family Vacation (Whenever That May Be)
As much as we wish our vacation was a complete unplugging from technology — okay, not really, that sounds awful — electronics are a must-pack travel accessory. This cable organizer helps keep all those cords from becoming a mess of tangles.
Whether you're traveling by plane, train, or automobile, a cozy blanket makes everything better. Either your sweating or freezing on an airplane, and if you're taking a family road trip, there's always that one family member who loves to blast the AC while everyone else is freezing. The trouble with most blankets is that they are so damn bulky, and they take up too much precious space in our luggage. But this blanket is cozy, soft, and folds up super small so it's easy to throw in the backseat or squish into a carry-on bag
This foot hammock is the travel accessory you never knew you always needed. It really is the little things. Ahhh…
And when you get home, you can easily stick all those amazing memories to your wall with Mixtiles so you can feel the vacay vibes all year 'round.
This post contains affiliate links, which means we receive a small portion of the sale if you make a purchase using these links.
This article was originally published on