I Tried LipSense, And I Kinda Liked It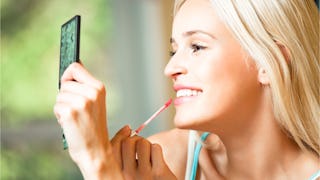 vgstudio / Shutterstock
A good friend of mine began selling LipSense (surprise!) and added me to her sales group on Facebook. I figured, as a supportive friend, I'd at least see what she was talking about.
I'm really not one for makeup. I'm more of a lip gloss/balm kind of gal. Mainly I feel lipstick is often too bold of a statement for me, and I don't feel great about it. When I do wear lipstick or lip gloss, it's often the most nude/sheer color I can find. So when I heard about LipSense, I wasn't interested. And when I heard the price to get started? $55. I literally scoffed.
That price tag (one lip color and a gloss) is steep for someone who is only marginally interested in lipstick.
At the end of the day, LipSense is still a MLM, and the folks who sell it will likely light up your newsfeed with posts, pictures, and tutorials. If that's not your style, believe me, I understand. My friend is low-key about it (she let me come over and try it out with absolutely no pressure), so I was more inclined to give it a shot.
The biggest draw of LipSense is that it is completely smudge-proof and doesn't come off unless you want it to. If you know someone who sells it, you've seen those videos of them rubbing their lips with their finger and then showing you that their finger is still clean. Those videos are weird and a little annoying, but the stuff really doesn't come off. And after that application process, and the price tag, it better freaking not!
The application process can be kind of daunting at first. You have to put on three layers of the color, give each layer a few seconds to dry, and then seal with the gloss. Also, if you go outside the lines (like me), then you need to purchase their specialized remover, which of course costs more money.
Obviously, this isn't the stuff to use if you're in a hurry. I also don't think I'd be putting it on where anyone could see me. This isn't like an "oh shit, I look like a hot mess, let's throw on some lipstick" kind of lipstick. This is a 'conscious decision that you're going to have to stick with all day" kind of lipstick because it's a pain in the ass to take off too. And yeah, the color itself makes your lips feel dry at first (probably the high volume of alcohol). Some people say it burns, but for me, it only tingled a bit. The dryness feels weird, but the gloss topcoat makes it more bearable.
You will likely go through your gloss quickly because you will want to reapply to banish that dry look and feel. The gloss is thick, though, so proceed with caution. Also, be prepared to repurchase often. (I'm sure there will be comments that say you only need to reapply sparingly and won't need a replacement tube for three years, so your mileage may vary, of course.)
At any given time there are approximately 36 colors in rotation. There is a black market for retired colors on eBay, and some of them go for hundreds. For freaking lipstick. I don't get it, but I've paid over retail for wacky leggings, so who am I to judge?
Since we've already established that I am not a fan of anything with bright color, I vetoed about 75% of the colors right off the bat. There are a lot of very bold colors. But I found a nude color that I didn't hate. When you're brown (like me), nude is a tough color because some of them look chalky or washed-out. "Bella," the company's best-selling color, didn't suck. If it was a touch darker, I would have enjoyed it more. I would have been content with three layers of that, but to get the full effect of the product, I was coaxed into trying some other colors. I only agreed if I could take it off immediately.
"Mauve Ice," while nice, was too frosty for my skin tone so we layered it (which means mixing colors to get me to purchase more product, duh) with "Purple Reign," which is the boldest freaking color they have. It's purple. I don't even like strong pinks, and pink is my favorite color, so you can imagine how I feel about this shade. The other two more neutral shades toned it down, but still. Instead of looking like I got punched in the mouth, I looked like I was sucking on a grape lollipop (ew, grape). It wasn't terrible, but you best believe I was reaching for that remover as soon as we took the picture. I painstakingly used my petroleum-based lip balm, but I would recommend coconut oil or something thicker. The taking off process is just as tedious as the application process, FYI.
While I won't be purchasing LipSense any time soon, as the application process and the price tag do not appeal to me, it's not a terrible product by any means. I'm still pretty firmly planted in the "Team No Lipstick" camp. But I'm glad my friend took the time to walk me through it while avoiding high-pressure sales tactics and was open to me sharing my honest opinions. It'll be a long time before I entertain the idea of a$55 lip kit, but I'm still looking for my unicorns, so no shade.
This article was originally published on