Trix Fruit Shapes From The 90s Are Back And We Have Our Spoons Ready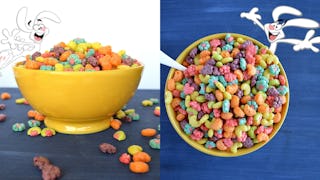 Image via General Mills
Our long national nightmare is over. Starting this month, Trix cereal will once again be shaped like little pieces of fruit
Here's some good news for people who sit around and get nostalgic about the way breakfast cereals were in the 90s. And also some good news for anyone who needs a break from the relentless, bleak, emotionally exhausting news cycle. Also good news for roughly 100 percent of kids:
General Mills has announced that it will be bringing back classic fruit-shaped Trix, starting this month.
We are as happy as an insane cartoon rabbit eating a brimming bowl of brightly-colored fruity deliciousness!
"Trix cereal is beloved by our fans, and we heard loud and clear that they wanted to see the iconic shapes back in their bowls," said Scott Baldwin, director of marketing for General Mills cereal, in a press release. "When Trix launched in 1954, it was the first fruit-flavored cereal that was colorful and fun. We're excited to continue that legacy, bringing an extra dose of joy to breakfast."
Trix has a long and confusing history of shapes and colors. Here's a summary:
It was developed in 1954 as a sugary fun alternative to Kix. At it's origin, the pieces were colorful, but round.
In 1991, the cereal was made brighter and the spheres turned to fruit shapes.
Tragically, in 2007, for reasons unknown, General Mills turned the fruit shapes back into circles.
In 2015, the company announced it was ditching artificial flavors and colors, and due to this change, Trix would only have four colors and flavors.
That didn't go well.
In 2017, they announced that "Classic Trix" would return, with its full sugar and artificial flavors and colors.
TODAY, we get all of the goodness of Classic Trix, plus the original shapes we loved as kids.
Trix stated that just like the reinstatement of Classic Trix, the reinstatement of 90s nostalgia fruit-shaped Trix is tied to the customer sentiment – they claim that 20,000 customer requests sent them over the edge and to the cereal architects, who started drawing up bananas.
Another impetus for the change may be that cereal sales have been stale and slumping recently, due to more Americans being concerned about their diet, although, oddly, super fun and sugary cereal sales have gone up, perhaps because adults like to eat a bowl for dessert, or when they're looking for a little comfort from the old days when a bowl of Fruity Pebbles or Cookie Crisp could turn a day around.
The cereal company also reminded us that the cereal isn't just packed with sugar, it's also fortified with 12 vitamins and minerals and is made with whole grains. Something to remember when you want to eat it out of a soufflé ramekin for dinner while binge-watching The Good Place.
Don't worry: everything else about the cereal is staying the same, including the completely legitimate flavors (Raspberry red, Lemony Lemon, Orangey orange, Wildberry blue, Grapity purple and watermelon) and their enterally frazzled and hungry mascot, Tricks.
When exactly will these be available? GM says "October," so maybe take a stroll down the cereal aisle (and memory lane) next time you're at the store.
This article was originally published on