A 'Trolls' Holiday Special Is Coming To TV This Week
by Megan Zander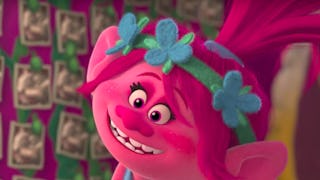 Image via YouTube/DreamworksTV
Poppy and the gang are back for a brand new TV holiday special
Admit it, you're totally guilty of dropping whatever you're doing to watch Trolls whenever your kids pull it up on the iPad. I still take their requests to crank the radio when Can't Fight The Feeling comes on, not gonna lie. Trolls 2 isn't due out until 2020 (ugh) so to tide us over, the folks at Dreamworks are giving us Trolls Holiday, an animated half hour special airing in primetime next week. Anna Kendrick and Justin Timberlake are reviving their roles as the cutest animated odd couple ever, Poppy and Branch.
The plot sounds great. "Now that the Bergens' one holiday is gone – and the Trolls don't have to worry about being eaten by their neighbors – Poppy, the eternally optimistic Troll queen, has made it her mission to bring a brand new day of celebration to Bergen Town," explained NBC in a press release. "When Poppy recruits reluctant Branch and the rest of the colorful Snack Pack to join her quest, she'll try to prove to her best Bergen friends, Bridget and King Gristle Jr., that life would be better if they'd just adopt a new holiday. But just because Poppy won't rest until the village embraces Ticklepalooza or Balloon Squeal Day doesn't mean the Bergens are ready to launch a celebration as loud, crazy and glittery as the little Troll suggesting it." Lots of drama for a bunch of fairy tale creatures, but we're sure Poppy and her scrapbooking skills can handle anything.
The best part is that just because the Trolls are coming to the small screen doesn't mean the cast is downsizing too. In addition to Kendrick and Timberlake, all of the movie's headliners signed on to voice their characters. The special stars Zooey Deschanel as Bridget, Christopher Mintz-Plasse as King Gristle Jr., James Corden as Biggie, Ron Funches as Cooper, Icona Pop's Caroline Hjelt as Chenille, Aino Jawo as Satin, Kunal Nayyar as Guy Diamond, Walt Dohrn as Cloud Guy, Smidge, and Fuzzbert.
If you're just as bad at waiting as I am (or you you want a blissful four minutes of silence from your kids) Dreamworks has released a sneak peek of the opening from Trolls Holiday. Check it out below, then cancel your plans for Friday night. Or watch when it drops on Netflix on December 6th. See you at hug time!
Trolls Holiday airs Friday, November 24th at 8:30pm EST on NBC.
This article was originally published on