13 Truck Coloring Pages That Are Truckin' Awesome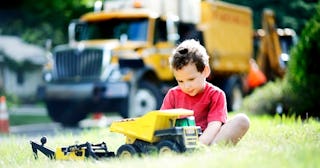 Linda Epstein/Getty Images
Truck coloring pages aren't just for kids — they're also for adults who've always liked trucks but never got the chance to drive one. Regardless of how old you might be, trucks are pretty darn cool and charmingly nostalgic. Why? Because many of us first loved trucks when we were growing up. Remember the arm pump we used in the car as kids to signal truckers that we wanted them to blow their horn? It was also quite exciting during class trips (well, maybe not so much for the bus driver!). It's hard to tell whether or not truckers actually liked this kind of engagement, but when they honked, it felt oddly empowering. Luckily, truck coloring pages are a lot less noisy.
Don't worry, though; they're just as fun for upcoming road trips. Print out a few truck coloring pages, grab the crayons, and boom — you have an instant distraction for kids for when you're stuck in traffic. Here are 10 great prints to kick off your coloring shenanigans. And after you power through these pages, turn your attention to some other heavy machinery just waiting for your artistic touch with our airplane coloring pages, helicopter coloring pages, train coloring pages, and car coloring pages.
Free Printable Truck Coloring Pages
Truck Page No. 1
Uh oh! We suddenly feel the pressure to name all these different truck-like vehicles. It's almost like Blippi is giving us a pop quiz. Let's just say this truck would look fantastic in a bright red color. Shading it in will also give it a ton of dimension and make it more of a dramatic masterpiece.
Truck Page No. 2
This truck is a bit more recognizable. You can color the front in gray, or get wild with it. We can almost envision flames above the front fenders, can't you? You can also dream up what kind of goods this truck delivers.
Truck Page No. 3
This dump truck might be hauling something like rocks or heavy building materials. Also known as a tipper truck, these vehicles quite commonly lug sand, gravel, or just demolition waste to or from a construction site.
Truck Page No. 4
This truck is also open for imagination, so don't be afraid to experiment with a coloring page like this! Make the truck lilac in color or even a spring green. It may be uncommon on the road, but it doesn't mean you can't dream it up on paper.
Truck Page No. 5
OK, this one we know — this is a cab-over truck, best known for having a flattened "face." They used to be fairly popular in the U.S. but aren't manufactured as often anymore. Still, you may see a few on the road, especially for garbage collection. If you have metallic markers or crayons, this truck will look fabulous with a bit of sparkle.
Truck Page No. 6
This truck is hauling logs, and you can use your imagination to figure out why. Personally, we feel as if the person driving is going to start building a log cabin. Having the wood in the back gives you another excuse to add a little color and give this truck more purpose.
Truck Page No. 7
Are you moving soon? Then this beast might end up visiting before you know it. Personalize this coloring page by adding your own logo on the side of the truck. Or make it shine by adding a rainbow motif. Here's another trucker tidbit: Did you know that six percent of truck drivers are women and that truckers spend, on average, more than 240 nights on the road?
Truck Page No. 8
This truck coloring page is fun since you get a lot of extra detail. What color will you make the passenger side mirror? Will the door match the rest of the exterior, or will it be a shade or two different? It's all up to you. While you color, ponder this: Truckers who drive for small companies travel, on average, more than three million miles in their lifetime.
Truck Page No. 9
If you're looking for a truck coloring page that's more or less a blank slate, this one is perfect. Advertise your favorite store, brand, or even musical act on the side of this truck. Or print out a few and try several different designs.
Truck Page No. 10
As you color the final truck in the collection, think about what a vital role truckers play for the U.S. economy. Did you know 70 percent of all U.S. freight is transported via Class 8 trucks?
Free Printable Monster Truck Coloring Pages
Monster Truck Page No. 1
The coolest cars out here are probably monster trucks. Did you know they cost around $50,000? They can also run up to 100 miles per hour.
Monster Truck Page No. 2
If you ever find yourself in one of these monster trucks, you may have a hard time seeing out of it. They rarely have doors, and in order to get into the driver's seat, you must climb up the side of the truck.
Monster Truck Page No. 3
Did you know monster trucks crush 3,000 cars a year? That's a lot of damage! Here's something even more interesting: Truck drivers spend more than 2oo nights away from home and six percent of truckers are women.
Click here to print all of the truck coloring pages at once!
This article was originally published on