Trump Will Only Allow Funding For 'Essentials' For Migrant Kids Held At Shelters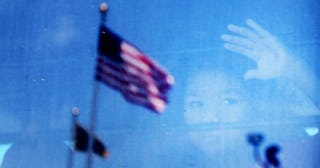 Spencer Platt/Getty
Due to budget pressure, unaccompanied minor immigrants will receive far less programming and support
The Office of Refugee Resettlement has started canceling programs for unaccompanied migrant children "not directly necessary for the protection of life and safety, including education services, legal services, and recreation," U.S. Health and Human Services (HHS) spokesman Mark Weber told The Washington Post.
These programs include English lessons, recreational lessons like soccer, and legal aid — basically, three of the things that these kids need most.
Shelters across the country received an email from HHS saying that school and recreation activities would not be paid for by the government, retroactive to May 22.
The reason for the cuts, which will begin to take effect gradually in the coming weeks, is budgetary issues. There has been a constant rise of families and unaccompanied minors appearing at our Southern border due to poor conditions in Central America, and the numbers are daunting. HHS says that they could run out of money as soon as later this month, and have asked Congress for $2.9 billion to improve care.
Just this year, over 40,000 unaccompanied minors have been placed in HHS care after crossing the border from Mexico, a 57 percent increase over last year. Over 57,000 children were apprehended crossing the border in May alone (either with or without family members). Federal regulations require that these minors are kept in kid-friendly shelters, and not adult detention centers, but there is increasingly no place for them to go.
"We are in a full-blown emergency, and I cannot say this stronger, the system is broken," Acting Customs and Border Protection Commissioner John Sanders told ABC on Wednesday.
Better care is certainly needed. HHS, ICE, and other federal officials have been in the news repeatedly in the last year for poor migrant and detention center conditions, including overcrowded shelters, overnight van stays, and sexual abuse. At the same time, the Trump Administration has continually tried to treat the migrants as illegal and less than human with xenophobic and racist policies and programs — to the point that many believe the actions are based in cruelty more than budgetary concerns.
The cuts to programming might also very well be plain illegal. A 1997 federal court settlement found that migrant children in custody of the United States have rights, and that those rights include a basic standard of care. The standard of case absolutely includes education and recreation, which are a large part of the cuts.
There was also another federal ruling by the Supreme Court that stated that undocumented kids are entitled to an education.
Another human rights activist, Helena Olea, added that the programs prepare children for a successful entrance and integration into the United States. By taking these programs away, Trump is signaling that we do not want to help these children, and that we don't care about their short-term or long-term wellbeing.
"This is also the start of the process of preparing those young people to integrate into the US," she told The Independent. "By doing this, the Trump administration is saying it does not want those children to be here. It's going to result in a mental health crisis for those unaccompanied minors."
"We'll see them in court if they go through with it," Carlos Holguin, an attorney who represents the rights of migrant kids, added to The Washington Post. "What's next? Drinking water? Food? . . . Where are they going to stop?"
"What are you going to do all day?" a shelter employee who wished to remain anonymous said. "If you're not going to have any sort of organized recreation or physical activity, what are you going to do, just let them sit in their rooms?"
At the same time that shelters are scrambling for money, Trump continues to push his plan for an $8 billion border wall through the courts — even as experts say that that's not an effective solution to the issue of immigrants escaping distress in places like El Salvador and Guatemala.