Trump Administration Caves To Ignorance, Refuses To Protect Our Children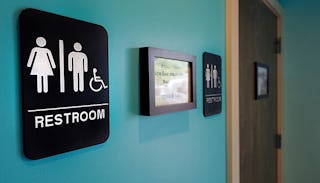 Image via Sara D. Davis/Getty Images
Trump administration withdraws federal protection for transgender students
Last May, the Obama administration issued a directive to all public schools: allow transgender students to use the bathrooms that match their gender identity or face lawsuits or loss of federal aid.
Since we are swiftly rolling back every progress we as a country have made in the last several decades, the directive no longer stands. Last night, the Trump administration announced they are withdrawing protections for transgender students that the Obama administration put in place. Schools will no longer be federally directed to let transgender students use bathrooms and locker rooms that correspond with their gender identity.
When the decision was made last May, then Secretary of Education John B. King Jr. said, "No student should ever have to go through the experience of feeling unwelcome at school or on a college campus. We must ensure that our young people know that whoever they are or wherever they come from, they have the opportunity to get a great education in an environment free from discrimination, harassment and violence."
Apparently, that no longer stands. Our country is caving to ignorance. Our children cannot be safe in that environment.
Leaving this decision up to the states will ultimately force children into bathrooms of the gender they do not identify with. "As President Trump has clearly stated, he believes policy regarding transgender bathrooms should be decided at the state level," the White House said in a statement.
CNN reports that new Secretary of Education, Betsy DeVos, was not on board with the decision:
When the new guidance was issued Wednesday night, DeVos was publicly on board. Behind the scenes, however, "This is not what Betsy wanted to do," one source outside of government who said he's familiar with DeVos' thinking on the plans told CNN.
She communicated her feelings to Sessions, the source said. Then, she was summoned to the White House on Tuesday for a meeting with him and President Trump, where she was told to agree to the plans.
"This is not merely a federal mandate, but a moral obligation no individual, school, district or state can abdicate," DeVos said in a statement. "At my direction, the department's Office for Civil Rights remains committed to investigating all claims of discrimination, bullying and harassment against those who are most vulnerable in our schools."
Great. This is the equivalent of starting a fire, then promising to put it out slowly. No thanks. How about don't light the match to begin with? The only thing this is going to do is bring more negative attention to transgender students and open them up to more bullying, discrimination, and harassment.
The GOP blasted the directive in May, so it's not surprising that they are rolling it back. They thought it was "heavy handed." Federal involvement in state issues is a thing that many Republicans can never seem to get behind. But when the issue is discrimination, we can't leave it to the states.
A photographer named Meg Bitton shared the photo to her Facebook page to prove how strange this obsession some GOP lawmakers have with bathrooms really is. Especially public school bathrooms. "If this was YOUR daughter, would you be comfortable sending her into a men's bathroom? Neither would I. Be fair. Be kind. Be empathetic," she wrote. "Treat others how you would like to be treated."
Children are in danger because we are caving to those who have not evolved enough to accept that all human beings should be equal under the law.
Ignorance cannot win. What are we going to do about this? We are better than this. We have to be better than this.
This article was originally published on