New Trump Administration Proposal Could Cost 750,000 People Their Food Stamps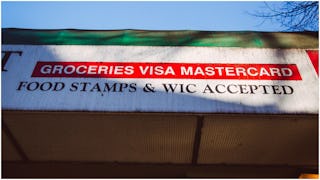 Image via Portland Press Herald/Getty
Hundreds of thousands of people might lose their access to food stamps because of this new policy
Another day, another horrible attempt by the government to hurt people in need. The Trump administration wants to clamp down on waivers that allow non-disabled people to obtain food stamps. This proposal would affect more than 750,000 people who rely on those benefits to live, according to a report from NPR.
The Trump Administration is turning its attention towards The Supplemental Nutrition Assistance Program, which offers nutritional support for low-income and no-income people in the United States. There's already a policy in place that mandates non-disabled people without dependents work, volunteer, or receive job training for twenty hours per week. If they don't, they only receive benefits for three months out of thirty-six months.
However, states can offer waivers in areas with high unemployment rates. Those important exceptions could change with the administration's proposal. They want to restrict access to waivers, which would leave hundreds of thousands of people vulnerable.
"Work has dignity. Work is opportunity. Work is not a dirty word," Rep. Dusty Johnson of South Dakota, the nutrition subcommittee's ranking member, said per Fox 6. "Able-bodied adults cannot be kept on the sidelines while we witness historically low unemployment and a record-high seven million open jobs."
It's a pretty short-sighted assumption that non-disabled people can easily find work. Johnson is completely ignoring the many challenges that could stand in a non-disabled person's way, including mental illness, criminal records, or drug addiction.
So, how much do the people affected by this proposal earn per month? Karen Cunnyngham, a researcher at the policy research firm Mathematica, told a House subcommittee that the average monthly income is $557. According to CNN, that's 43% of the poverty level. Some politicians are speaking out against this proposal and emphasizing the life-saving importance that food stamps have on people's lives.
"As a single mother raising two sons, I relied on food stamps to make sure my kids had food on the table. Trump's newest proposal would put thousands of everyday families at risk — we can't let that happen," Representative Barbara Lee tweeted.
NY Attorney General Letitia James added that New York has joined a "multistate coalition" to fight back against the administration's cuts. "There is no sufficient justification for this & it will hurt communities across our nation who depend on this program every day," she wrote on Twitter.
Kathy Fisher, policy director of the Greater Philadelphia Coalition Against Hunger, told Philly.com that the Trump administration is – once again – trying to worm its way around Congress.
"I liken this to the wall," she said. "The administration wants to change things by fiat rather than follow what Congress has set out."
Many, many other American are speaking out as well. A whopping 28,000 people have submitted their thoughts on the new restrictions during a public comment period, according to NPR. Very unsurprisingly, the majority of those submissions oppose the proposal. I know this is a wacky idea, but what if the administration focused its attention on something besides taking away benefits from vulnerable Americans? Wouldn't that be just grand?