The Trump Administration Wants To Hold Detained Migrant Kids Indefinitely
by Julie Scagell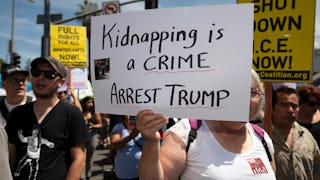 Image via Getty Images/ Ronen Tivony/NurPhoto
The rule could keep some kids in detention for years awaiting hearings
The Trump administration just announced a new rule — which could go into effect in 60 days — allowing migrant children to be held in custody indefinitely, overturning a U.S. policy that's been in place for more than 20 years.
The Departments of Homeland Security and Health and Human Services proposed the ruling, allowing Immigration and Customs Enforcement (ICE) to keep children with their mothers in detention centers while waiting for a court hearing. According to a statement, the administration said it will "satisfy the basic purpose" of the 1997 Flores Settlement Agreement, which required kids be released after 20 days in custody, by committing that kids will be "treated with dignity, respect, and special concern for their particular vulnerability as minors."
These are the same places where dozens of incidents have been reported, including sexual abuse of children, being ripped away while they were breastfeeding, and inhumane conditions including lack of privacy, food, and bedding. According to other reports, children in some facilities are only allowed to be outside for two hours a day.
According the NBC News, a DHS official said the "average length of stay for adults with pending court cases is currently 39 days," however this new rule will now allow ICE to keep children for the entire duration of their immigration cases, which in some cases can last years.
The rule also aims to limit the release of children in custody to parents or legal guardians only, "ending the practice of releasing children to other family members, including siblings, grandparents and aunts and uncles," Bloomberg reports. This means even if they have a family member who wants to care for them while their parents await their hearing, they'll no longer be allowed to do so.
DHS Secretary Kirstjen Nielsen said in a statement that this rule has been enacted to protect immigration law. "Today, legal loopholes significantly hinder the Department's ability to appropriately detain and promptly remove family units that have no legal basis to remain in the country," she said. "This rule addresses one of the primary pull factors for illegal immigration and allows the federal government to enforce immigration laws as passed by Congress."
The policy will likely land back in the courts for consideration and ruling. "Efforts to weaken or eliminate basic child protection standards by calling them a burden or loopholes, and eliminating their obligations for the basic care of children, is just another example of the administration's abdication of human rights," says migrant-rights advocate Michelle Brané. "The court has already had to to step in repeatedly to uphold these basic child welfare principles. It is clear that the administration is incapable of holding themselves accountable."