Federal Judge Rules Trump's Asylum Ban Is Illegal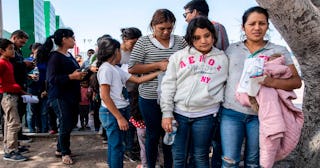 EDUARDO JARAMILLO CASTRO/AFP/Getty
The judge ruled that the ban violates the Immigration and Nationality Act
In Washington, D.C. yesterday, a federal judge threw out the Trump administration policy that bars migrants who illegally cross the border from seeking asylum. He says the ban violates the Immigration and Nationality Act.
Trump initially issued the "asylum ban" in November last year in direct response to the migrant caravans he used as a hot-button issue to rile up his base ahead of the mid-term elections. It aimed to temporarily ban migrants crossing into the U.S. through the southern border from seeking asylum outside "official ports of entry."
Well, District Judge Randolph Moss proved he isn't having any of that nonsense and pushed back on the Trump administration's illegal policy in his response. "Aliens have a statutory right to seek asylum regardless of whether they enter the United States at a designated port of entry, and defendants may not extinguish that statutory right by regulation or proclamation."
When the ban was initially proposed last year, another federal judge blocked the administration from being able to enforce the ban — but that didn't stop it from having an effect on migrants, since it was only able to be blocked through December of 2018 after the Trump administration appealed the ruling.
Recently, the administration has expanded its policy of requiring some asylum seekers to await their immigration hearings in Mexico. This limits the number of asylum-seekers who can enter a port of entry for processing, and has dramatically limited the ability of Central American migrants to claim asylum once they enter the United States via Mexico. As of this summer, the policy was a near-total ban on asylum-seeking. Which is as racist as it is unconstitutional.
"Today's decision is a big deal for what it portends — that the administration's new asylum policy is likely to be wiped off the books," said Steve Vladeck, professor at the University of Texas School of Law, tells CNN. "But its practical impact will be more modest, because the policy was already on hold thanks to a nationwide injunction against it from a California court — one that the Supreme Court, by a 5-4 vote, refused to stay last December."
The Trump administration has taken a number of measures to curtail asylum seekers, saying a majority of claims are "fraudulent." Immigrant rights advocates are pleased with the latest decision, seeing it as a resounding defeat for the Trump administration that will save lives.
"This decision is significant not only for the bona fide refugees who would have otherwise been denied the right to seek asylum under the illegal rule, but it gives us hope that future attacks on asylum-seekers will meet the same fate," Keren Zwick of the National Immigrant Justice Center says.