Trump Challenges Tillerson To Take A Big Boy Test, And It Goes Down Like This...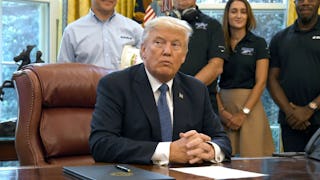 Getty Images
Rex Tillerson almost definitely called Donald Trump a fucking moron. I'm 99% sure he did. That last percent is because there is a possibility Tillerson called the president a huge fucking moron.
So because Christmas is coming and the season of giving is upon us, Donald Trump challenged his secretary of state to an IQ test over Twitter.
Please, God. Please, PLEASE let Donald Trump take an IQ test that would be public record. PLEASE. I will never ask for anything else. I swear it.
Come out, come out, it's time for your big boy test!
You'll do great! Just try your best and show us what a smart big boy you have grown to be.
Let's write your name. Write it big! Write it big and important because you are a big, important big boy.
You know your colors. Yes! The big boy found red, white, and blue. Great job, big boy! You are such a good learner.
A is for apple.
Good job, smart boy! You found an apple all by yourself.
B is for big boy! B is also for bird. Can you point to the birds?
Hooray for the big boy! Let's give a big cheer! Three cheers for how smart our big boy is!
C is for collusion.
Come back, big boy! Big boy, come back! We are sorry, sweet big boy.
How about a game? Would the big boy like a small break for peekaboo?
The big boy does not like peekaboo.
It's all right, sweet, smart boy. Let's keep going.
Show us your shapes! Can the smart boy make a circle?
Wow! What a great circle-maker you are!
Time for numbers! Let's count together. 1… 2… 3… 4… Can you write down which number comes next?
Eyes on your own paper, big boy! Rex is taking his big boy test too.
Can you show us your big boy eyes?
Can you show us your big boy ears?
What about your big boy nose?
Good job, big boy! You found your nose! Now explain the difference between Medicare and Medicaid.
It's okay, big boy. Just keep trying and you will get it. Big boys don't give up!
Can you show us tiny? Yes, use your hands. You got it! You showed us tiny with your hands.
Can you show us the opposite of tiny, big boy?
That's right! Of course, you know the opposite of tiny is YUGE! Because you are a smart big boy who is learning so much.
The test is done. You did so well! We are proud of our big boy and his very smart brain.
It's rest time, big boy. Melania will read to you from Infowars if you ask nicely.
Sweet dreams, big boy!
Results are pending, folks.
This article was originally published on