People Are Sharing Heartbreaking Stories Of Being Told To 'Go Back' To Their Countries
by Christina Marfice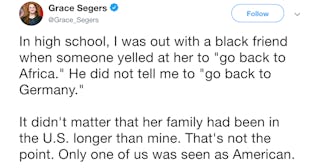 Twitter
Trump went on a racist tirade that inspired a flood of stories that will break your heart
Days after President Donald Trump said in a series of tweets that four American congresswomen of color should "go back" to their own countries, other people of color are sharing stories of similar racist sentiments they've encountered.
In his tweets, Trump targeted Reps. Ayanna Pressley, Rashida Tlaib, Alexandria Ocasio-Cortez, and Ilhan Omar, saying, "Why don't they go back and help fix the totally broken and crime infested places from which they came." For the record, Pressley was born in Cincinnati, Tlaib in Detroit, and Ocasio-Cortez in New York, while Omar came to the U.S. from Somalia as a very young child and became a U.S. citizen when she was just 17.
Trump has denied that the tweets were racist, even though they single out non-white women and ignore the fact that the one of these women who was not born in the U.S. became a citizen before his own wife did — Melania Trump gained her citizenship in 2006 when she was 36 years old. Melania is also white, which illustrates the difference here and what Trump is trying to say: Being born in American or gaining American citizenship isn't what makes you belong here — being white does.
To further illustrate that, people of color have been flooding social media with stories of times they were told to "go back" where they came from, even though many of them come from families that have lived in the U.S. for generations upon generations.
Let's revisit that last line of that last tweet: "It didn't matter that her family has been in the U.S. longer than mine. That's not the point. Only one of us was seen as American."
That's it. That's the point of all of this. There are many members of Congress and state legislatures and Donald Trump's own family who are immigrants, who are new citizens, who were not born in the U.S. But as long as they're white, he's not telling them to go back to anywhere. He reserves that particular criticism for black and brown women, exclusively.
The stories just keep pouring in. This happens almost exclusively to people of color. It is racist.
Meanwhile, Republicans have stayed largely silent about Trump's remarks, because of course they have. The GOP is completely willing to follow him into racism and bigotry because it stokes a base that is winning them elections based on fear-mongering. It's a truly frightening time to be an American, but our hope lies with people like Ayanna Pressley, Rashida Tlaib, Alexandria Ocasio-Cortez, and Ilhan Omar, who are truly fighting for a strong, diverse, progressive America.