Trump's 'Diet Coke Button' Is Gone Now & How Was That Ever A Thing?
by Madison Vanderberg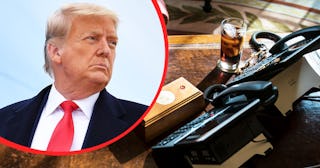 MANDEL NGAN/Jabin Botsford/The Washington Post/Getty
Trump's ridiculous "Diet Coke button" not seen in photos of Biden's new Oval office
Since taking office on January 20, 2021, President Biden has already undone a handful of toxic Trump-era policies, including removing the Diet Coke button from the Oval Office. If you, like me, thought that the Trump "Diet Coke button" was like, some kind of urban legend or an SNL joke or something, it's not. Disgraced ex-President Trump had a little brown box with a red button on it, and if he pushed it, a butler would arrive with a Diet Coke. Yes, really. And the first thing Biden did when he got to the Oval Office was get rid of that shit.
"President Biden has removed the Diet Coke button," English reporter Tom Newton Dunn first wrote on Twitter. "When@ShippersUnbound and I interviewed Donald Trump in 2019, we became fascinated by what the little red button did. Eventually Trump pressed it, and a butler swiftly brought in a Diet Coke on a silver platter. It's gone now."
This Diet Coke button has actually been corroborated by several reporters throughout Trump's Presidency and it was apparently a sort of party trick he did to impress journalists.
"Sitting across from Donald Trump in the Oval Office, my eyes are drawn to a little red button on a box that sits on his desk," The Financial Times' Demetri Sevastopulo wrote back in 2017 after interviewing the president (via Time). He wrote that Trump then pushed the button and a staffer arrived with a Diet Coke. Time also reports that Associated Press journalist Julie Pace shared the same thing about the button when she interviewed Trump early on in his presidency as well.
Also, if you choose to believe this rando on the internet, some "redneck" in Virginia actually made the button for Trump.
On the other hand, an editor at Business Insider U.K. said, via Quora, that it's a "Presidential Call Box" and all presidents have one to summon the Secret Service at a moment's notice. Apparently most presidents keep it in a drawer, or out of sight, but only Trump kept his on the desk, at all times, and used it — not in times of danger — but to brag to journalists about his abilities to summon Diet Cokes.
Family Guy used to make fun of Trump's Diet Coke button all the time actually which, I think, is why nobody believed it was a real thing. The President can't possibly have a Diet Coke panic button, because that's a Family Guy joke, right? Regardless, now that the Trump presidency is firmly behind us as a sort of collective American fever dream, the internet is having a field day with this Diet Coke button shit.
Good riddance to that corn syrup-slurping maniac we had the misfortune of having to address as president for four years.