Trump Threatens To Cut Off FEMA Aid For California Wildfire Victims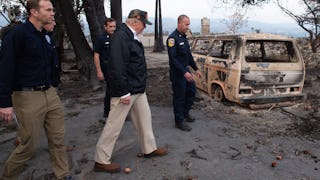 Image via SAUL LOEB/AFP/Getty Images
In a small, petty, and inhumane move, Trump threatened a huge policy change that, if enacted, will hurt wildfire victims
Watch out: President Donald Trump is announcing large, heartless policies on Twitter again, complete with misspellings. This time, he took to the social media platform this morning to announce plans to strip California wildfire victims of support and fund – though it's currently unclear if his statement is a fact or merely a threat from our president the schoolyard bully.
"Billions of dollars are sent to the State of California for Forest fires that, with proper Forest Management, would never happen," he wrote. "Unless they get their act together, which is unlikely, I have ordered FEMA to send no more money. It is a disgraceful situation in lives & money!"
This is not the first time that he's voiced his displeasure with California's forest management – during and after this fall's large and deadly fires, he said that the historic blazes were due to the state failing to clear debris from the forests.
The response was large and swift, as many experts on fire management, climate, and government pointed out that 1) Clearing brush wouldn't help the issue significantly and 2) that the majority of the fires were on federal land, which is controlled by federal agencies, and 3) the fires are due at least in part to climate change.
Democrats had swift and harsh reactions to the newest tweet, which seems to follow through on past threats.
California Senator Kamala Harris wrote back that it was wrong to punish survivors, and that working against climate change was key:
"Californians endured the deadliest wildfire in our state's history last year. We should work together to mitigate these fires by combating climate change, not play politics by threatening to withhold money from survivors of a deadly natural disaster."
California Governor Gavin Newsom told Trump that he's trying to help the victims, not play games.
Caring about future fires in California is likely not Trump's overwhelming concern. The state voted against him overwhelmingly in the election, and is generally deep blue. Criticizing the state for mismanagement and threatening to take away FEMA funds may simply be a punishment for the state's political policies and views. Trump has similarly threatened to pull federal funding and support from the state for their immigration policies.
Finally, the tweet is also in line with Trump's feelings on climate change – namely, that it doesn't exist and that it's not causing record-breaking fires across the west each year.
According to the New York Times, FEMA has approved $12.5 million in post-wildfire assistance, which would help survivors with temporary housing, repairs and rebuilding, and loans.
The Camp Fire wildfire was the deadliest and most destructive in state history, killing 85 and causing an estimated $16.5 billion in damage.
This article was originally published on