Trump Campaign Flyers Go Out With Food Bank Boxes
by Leah Groth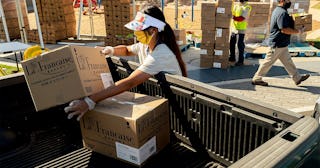 Leonard Ortiz/MediaNews Group/Orange County Register/Getty
On the heels of the 2020 election, Donald Trump has included a signed letter in food assistance boxes handed out at food banks around the country
In one month, Americans will head to the polls to cast their ballot for the 2020 United States Presidential Election. Undoubtably, this campaign year has been one of the most unique in modern history as we are in the midst of the worst pandemic this generation of voters has ever seen, racial and human rights issues are heightened, and the overall vibe is decidedly hateful. The campaign itself has been unorthodox, to say the least. To add even more dysfunction to the mix, according to a new report, President Donald Trump has found a creative (and possibly illegal) method of campaigning during this crucial election: he is now including a hand signed letter in food assistance boxes handed out at food banks.
According to The Washington Post, "anti-hunger advocates and food bank workers are outraged" about the written correspondence, pointing out that the President is violating the Hatch Act in addition to compromising relationships "with the food-insecure Americans they serve."
The letters, which are written in both English and Spanish, appear on White House letterhead and urge Americans to wash their hands and social distance.
"We will support Americans' recovery every step of the way. Together we will overcome this challenge, and our Nation will emerge from this crisis stronger than ever before," it reads, accompanied by the President's John Hancock.
One of these food banks, San Francisco-Marin Food Bank, has opted to remove the letters from the boxes and is urging other neighborhood pantries to do the same.
"We wouldn't put any third-party messaging in our boxes, and we wouldn't want anyone to think we are pushing a political message," Keely Hopkins, the food bank's communications and social media manager, said.
"It is our understanding that the [U.S. Agriculture Department] is requiring all CFAP-contracted vendors to include this letter in every CFAP food box," Catherine Drennan, director of communications and public affairs at the Greater Boston Food Bank told the outlet.
"We've made it clear to our partners: We are not placing this letter in the box. We do not endorse any presidential candidate and have no connection to the letter and the inclusion of the letter in these boxes."
In addition to food banks, schools that serve as food assistance distribution sites are also receiving these boxes.
According to Kate Leone, chief government relations officer at Feeding America, while distributors are required to include the letter, food banks have the right to remove them.
"It is our understanding that the distributors are under contractual obligation to include the letter, but the food banks are not required to include them, so many will be removing them. But that is time-consuming," she said. "From my perspective, the piece of this that is most troubling is what is it doing to the relationship between the food banks and the people they serve."