Oh Look! A Bunch Of Men Deciding Whether Women Deserve Health Care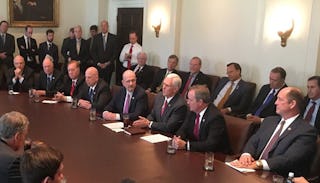 Image via Twitter/ Vice President Pence
Mike Pence and a dozen white men decide on the future of women's health
No, it's not 1812, it's 2017 — and men are once again deciding on the future of women's health — without a single woman in the room.
Yesterday, Trump met with the House Freedom Caucus to try to figure out a deal on the Obamacare repeal. They were discussing such things as whether maternity care and mammograms should be considered "essential" for women's health. Such a difficult question for a bunch of men to answer.
Again — there wasn't a single woman in the room. Pence tweeted about the little boys club moment:
I know what you're wondering: "Wtf is the Freedom Caucus, and why aren't there any women in it?" I'm guessing there are no women in it because there just aren't women evil enough to learn the secret handshake. The group thus far has said they won't back the Obamacare repeal — which would leave roughly 24 million people uninsured — because it's too moderate. Defunding Planned Parenthood, which would literally cost the lives of low-income women all over the country, isn't enough for them. Neither is refusing women mammograms or maternity coverage. They also want the "pre-existing condition" clause repealed, because of course. Why should sick people be able to use insurance? They should just wither and die in copious amounts of debt.
Here's another picture of a bunch of white men clapping.
This week, a female reporter asked Sen. Pat Roberts of Kansas about the GOP's attempts to roll back the "essential health benefits" rule that requires insurance companies to cover such things as cancer screenings. He jokingly replied, "I sure don't want my mammogram benefits taken away." Yup. Women losing their lives to cancer is just hilarious.
By defunding Planned Parenthood, and taking away essential services like mammograms and maternity coverage, the Republican party is essentially saying women don't deserve the basic health care coverage they need. "We shouldn't allow insurance companies to say men's health care is basic health care, but women's health care is not," Sen. Debbie Stabenow (D-Mich.) said.
This article was originally published on